Is working in a hybrid office the future?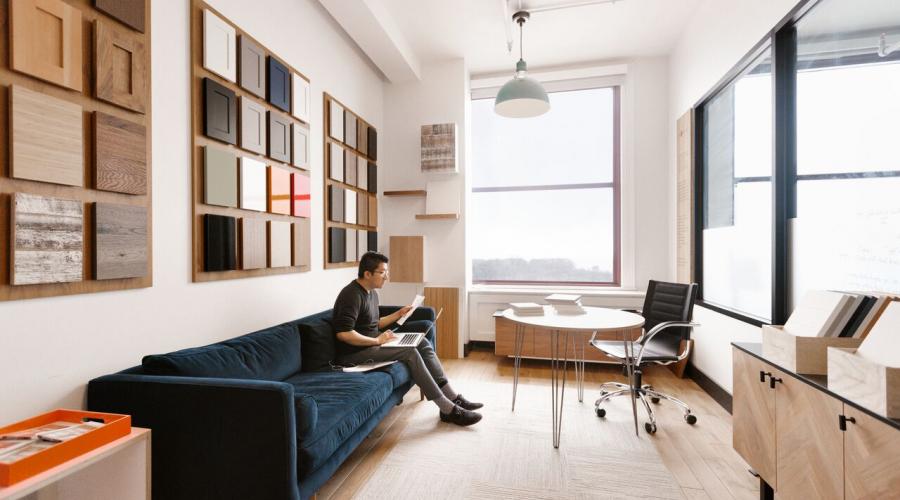 Currently, vaccinating is going fast and infections are declining. Therefore, companies are thinking about how they will set up the office in the post-COVID world. In a previous article, we published what the vision of well-known companies is for their office after COVID-19 in The Netherlands.
After all, the traditional office is slowly changing. During the pandemic, the majority of employees worked from home. Some employees liked working from home, while others looked forward to returning to the office. The question now is: how can this be compromised and what is involved?
What does "the new way of working" entail?
Academics and technical visionaries have been talking about the possibilities of teleworking since the 1980s. Nowadays, remote working has been little to non-existent in companies. However, as the coronavirus has forced its way into the world, companies are now looking at whether their employees can effectively work remotely. In fact, the past few months have proven that most employees can accomplish their tasks and meetings just fine without being in the office. This is due to the growing functionality of information and communication technologies.
The term "the new way of working" is a vision of making work more effective, efficient and enjoyable for both employer and employee. This is done by putting the employee at the center and giving him or her the freedom (within certain limits) to determine how, where and when he or she works. In this case, the employee may decide whether to work at home or at another location of his or her choice in order to create an ideal working environment.
What will happen to the traditional office?
Of course, companies will not simply say goodbye to their offices. After all, an office is more than just a place to work. It is also a place to meet, work with each other, relax or just concentrate when that is not possible at home. Also, not all positions will be able to work remotely because, for example, they need certain tools or resources that are only available in the office. Therefore, it is important to start thinking about how we evolve the traditional office.
What is a hybrid office?
One term you're probably hearing more and more is a hybrid office. A hybrid office is a workplace that facilitates that employees can work both in the office and remotely.
In this way, employees are given the opportunity to determine their own work rhythm. As a result, a good employer-employee relationship is based more on mutual trust than ever. Virtual meetings and gatherings have been seen as successful and efficient over the past year. Digital technology and communication is appropriate when time and space are tight, but it does not replace social interaction in the office. Therefore, the core of hybrid working is meeting and collaborating in a physical office space, also known as the hybrid office.
How do you set up a hybrid office policy?
Covid-19 caused that companies needed to switch completely to working from home quite suddenly after all. Therefore, the opportunities for working from home had to be expanded and facilitated. Your company probably set up short-term guidelines and expectations to ensure that working from home went smoothly. Hybrid working also requires these expectations and guidelines to ensure it is successful in the long term. Therefore, it is important to put a guideline, in the form of a policy.
In the following steps, we briefly explain how to create this policy:
1. To which employees does the hybrid office policy apply?
Not every position within a company has the ability to work remotely. Some employees require certain facilities or tools to carry out their work. Therefore, cast a critical eye over the positions of your employees. Then include in the policy who is in a position to work remotely and what these employees need.
2. Set guidelines and expectations
As indicated earlier, hybrid working relies heavily on trust, but also on the expectations of the employer or the manager of a team. Everyone will view this differently. It is therefore important to put clear guidelines on paper so that both parties are on the same page.
For example, discuss the number of days that employees can work remotely and the number of days that they are physically present in the office. How do they prepare for hybrid working, what is expected during remote meetings, and what are the expectations when they work in the office? Also look at how they can manage their time to still get the most out of virtual collaboration. In addition, it is also important to think about (travel) allowances. After all, if employees work from home, they do not have to travel miles to the office. Make a list of (core) values, expectations and scenarios so that all areas are covered.
3. What do employees need to be able to work comfortably hybrid?
The office often has all the tools and facilities available for employees to work well. It is therefore important to look at what is needed to make this work remotely as well. For example, can employees move computers to remote locations and how can they access tools and apps from there? &
Make sure to pay close attention to the tools and resources that can be used remotely and make sure that employees also know how to use them. If this fails, someone has to be able to help your employees remotely.
Image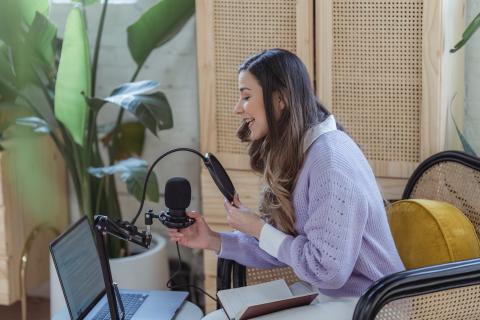 4. Consider the security of sensitive data and information
Modern information and communication technologies bring many possibilities, but without proper security, sensitive data can fall into the hands of hackers. This can have a huge impact on your business and create unpleasant situations if not handled carefully. Make sure you have the right security guidelines and communicate them to your employees, so they know how to act and that they can also work safely online, even when they are not in the office.
Setting up and designing a hybrid office
What does a hybrid office look like?
In the future, offices will have a new purpose. The office is no longer seen as a place where employees go just to work. It is now seen as a place to foster innovation and connection. The design of a future office is based on the keywords: collaboration, creativity and increasing team spirit.
This means that the structure within offices is changing. There will be less focus on workstations and more on brainstorming spaces, lounges, event spaces, (coffee) bars and spaces to meet. An example of an innovative office model is the hub-and-spoke. The headquarters (the hub) is located in a large city and is used for meetings, events and gatherings. The smaller establishments (the spokes) are located in surrounding cities, closer to residential locations of employees or customers where they can work several days a week.
Image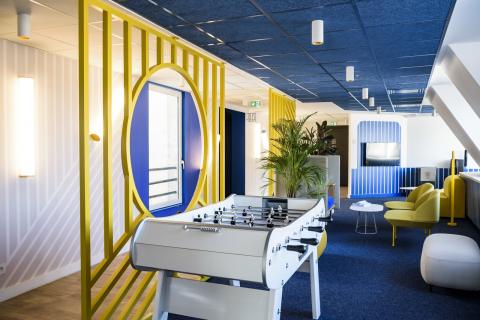 An office decorated as meeting and relaxing space located on Rue Traversière 15, Paris
Step-by-step plan for a hybrid office
In the following sections, the steps of setting up and establishing a hybrid office will be discussed.
1. Evaluate your current physical office
In your hybrid office policy you have mapped out who, where and when employees will be working remotely. An easy way to do this is by conducting a survey or by appointing a person responsible for the hybrid working group. This gives you a picture of who is physically present in the office and when. Then evaluate whether you have enough, too little or too much office space in your current office.
2. Determine your goal for having a hybrid office
Once you have identified how many square metres of office space you will need for your hybrid office, you can take concrete steps. Before you do this, it's important to examine your reasons for facilitating a hybrid office. For example, is your goal the well-being of your employees or lower costs for the company? And why is this important?  
3. Design your hybrid office based on your vision
Now that your company's vision is clear, you can look at what needs to change in your current office to support this vision.   
For example, if you have a surplus of office space, you'll need to look at how you can put this space to good use. One way is to sublet part of your office or to rearrange the office space. If you want to increase the gathering at the office, you can, for example, replace (part of) the workstations with socially interactive spaces or a comfortable lounge. In addition, think about separate concentration rooms for employees, who cannot concentrate at home or in an open environment.  
Image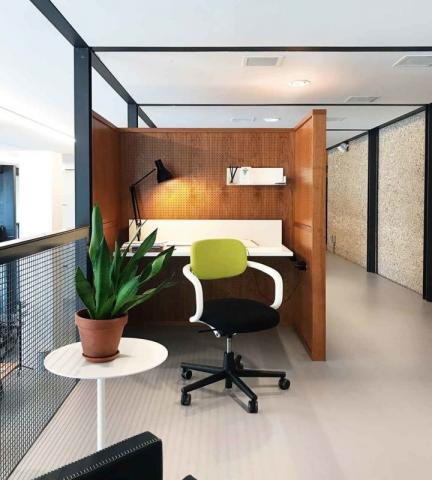 A seperated workstation for employees who can not concentrate in an open environment on Rue du Louvre 40, Paris
4. Provide sufficient resources
Some employees will still like to work physically in the office, while others will work completely remotely. It is therefore important to ensure that there are sufficient facilities and resources available both for remote working as working at the office. If the majority of your employees work at home, the physical office location may be disrupted of supplies. Therefore, make sure that there are sufficient workstations, computers, hardware and software available in the hybrid office as well.   
5. Take hygiene regulations into account.
To protect your organization in certain situations, such as the current pandemic, it is important that the office design complies with hygiene regulations. Even as infections are decreasing, it is still important to take into account the 1.5 meter society in the office. Make sure you have the right layouts and clean flexible workstations when someone else is going to use them.   
In addition to following hygiene regulations, you can also create outdoor workplaces, for example. Working outdoors has several advantages and it can prevent the spread of (future) viruses in traditional offices.  
Why should you choose to work hybrid?
Benefits
The "new way of working" in the form of hybrid working is the future. The flexibility and convenience of not traveling to your workplace are attractive aspects of hybrid working. The employee can determine, within the guidelines of the employer, how he or she works and this increases the employee's well-being. When proper arrangements are made within the team, everyone can work in a way he or she likes.
When necessary, the physical office can still be used, just in a different setting. The office will be furnished differently but it will still be a place where you can work together, concentrate and meet. Moreover, the employer can take a critical look at the amount of office space and possibly save on it, for example by subletting the office.
Challenges
Of course, the hybrid form of working does not have only advantages. The social aspect of working in an office cannot be replaced by virtual meetings. Because you will see each other less, some colleagues may become lonely. It is therefore important to keep in a close touch with each other about this. Communication is also more difficult when you don't speak to each other physically. A message can come across differently and therefore cause quickly more (invisible) annoyance. In addition, you can't just walk up to someone's desk to ask for more explanation. Make sure you keep communicating with each other and, if necessary, schedule occasional meetings or drinks with the whole company or team.   
Another challenge to hybrid working is the lack of commitmentwith the company and team that lurks. Working remotely is mostly individual and can therefore affect engagement. Team spirit and identification with the goals of the company are core values for an employee's productivity. It is thus important to keep stimulate this. Hold regular discussions with your employees and ensure that they also set individual (measurable) goals to keep them motivated, productive and engaged. Outings, events and meetings (in the company garden) can also promote team spirit.
Find your new hybrid office
A hybrid office ensures that employees are in control of their work lives. Due to the pandemic, many employees have had a taste of this and concluded that they like flexible working. We see the traditional office slowly changing to a hybrid office. Are you convinced of the possibilities of hybrid working? Would you like to scale in your current office space? Contact one of our office specialists and they will be happy to help you find your new (hybrid) office.