In this office it is possible to scale up and down. This means that you can purchase more office space as you grow. It is often possible to scale up and down per month.
This office has a customer-friendly reception that welcomes your customers well and gives them a cup of coffee in advance.
This office has several meeting rooms which you can use as a tenant.
This office is 24/7 accessible
This office has high-speed fiber optic internet. 
About this office on Rue des Colonies 56
Are you looking for an office in Brussels? On the Rue de Colonies is a historic building, beautifully situated in the center of the city. This unique office object has spacious offices available. The interior is just as classic and unique as what the building looks like. If you are looking for a special property to set up your office, this location is perfect for you. Contact us for more information.
Address
Rue des Colonies 56
1000 Brussels
This location provides office space with a fully functioning infrastructure, including I.T. and telephone services, furniture, utilities, etc. You are therefore able to move in immediately. You pay per person / desk on a monthly basis including costs such as heating, electricity, insurance etc. You can rent space for any period from one month to several years. Additional services such as meeting room rental, secretarial services, photocopying and I.T. assistance are usually available at extra cost. In addition to a fixed-term contract, you can also rent on a monthly basis and leave without notice or fine.
Services
What kind of services can I expect from this office?
Parking
Where to leave your car?
On private property or garage
Facilities
What makes this office space so special?
Accessibility
How to get to this office space.
Subway Schuman [ 24 mins walk ]
Train Brussel-Centraal [ 4 mins walk ]
Bus Noordstation [ 22 mins walk ]
The Neighbourhood of Rue des Colonies 56
All in's and out's about the area.
Right in the bustling center of Brussels, on the Rue des Colonies, this office is located with beautiful frescos and historic details. Next to the office is the Parc Royal and the Sint Goedele cathedral. It can not be more central. The central station even down the street, 2 minutes walk. The famous Colonies street leads to the Loi street where many European Community office buildings are located.
 
Look around the office.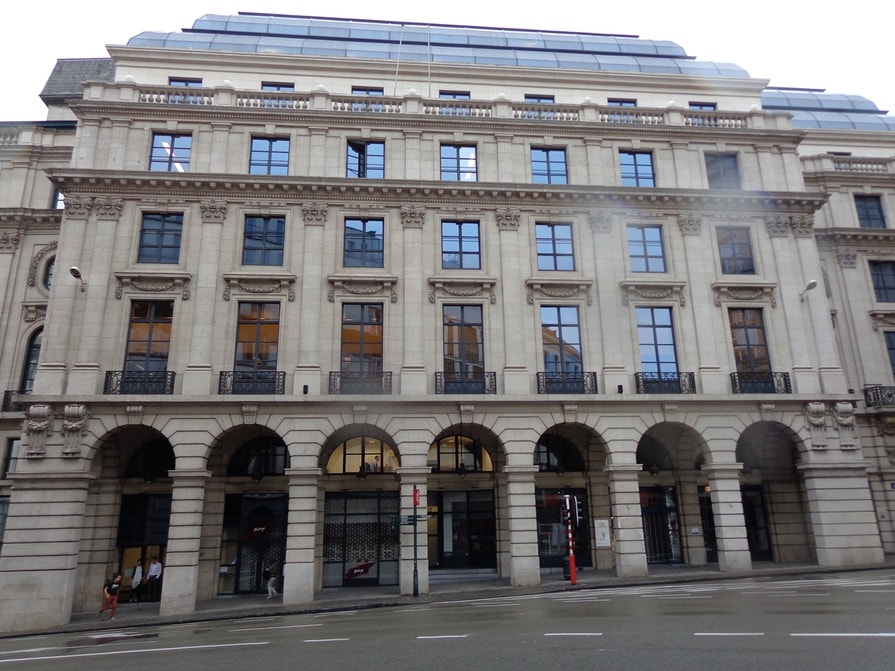 Click to view the virtual tour
Reviews about this office space
What do our customers say about Rue des Colonies 56
21 June 2019
Bureau ayant une bonne localisation. La disposition est bien avec différentes tailles de bureaux privatif et un beau panel de bureau en coworking.
Possibilité de personnalisation. Un accès rapide et facile pour les petits moments de détente, café, eau, ... Belle possibilité de restauration au rez avec un beau panel de produits .
04 September 2019
Very nice place to work near Central Station, in the beautiful centre of Brussels. Spacious offices with very good facilities such as cafetaria, coffee, tea, soup, dish washer, microwave. Reception desk people are very helpfull as well.
04 September 2019
Very nice office in the centre of Brussels, clean open spaces with coffee/tea/soupe and fresh water with fruit. Friendly and very cooperative reception desk and good nature light in the building.
04 September 2019
Amazing location (close to all types of public transports), nice premises, and great support from the team and reception :) Highly recommended
04 September 2019
Very nice office, access H24/D7, well located. The furnitures are in good quality and confortable. Wifi is working well. The welcome staff is very helpful. Possibility to sit in the open space or to have semi closed desk. The venues are always clean. Possibility to eat downstairs (without going externally, useful when it's raining!) some salad, sandwich, daydish etc...
Axis of improvement: Almost none! Just the parking slots are quite challenging to manoeuver when parking but still doable.
04 September 2019
Excellent space and services !
04 September 2019
I cannot recomend this location enough! Especially Lindsay, she went above & beyond to make sure our new office was perfect for us. Also service from start to finish I'd happily recommend the team and their offices to anyone looking for trendy office in central Brussels and this 2 minutes walking distance from central station.
A smooth transition & still very pleased with our office!
04 September 2019
Words do not do justice to this inspiring workplace. Aesthetically beautiful mix of city and serene, perfectly situated in the heart of Brussels. Co-working spaces are fun and practical, and one could not ask for a better property management team. Staff are wonderful; incredibly attentive and catering to your needs. Able to enjoy coffee, lunch or dinner at your own pace, in-house or in your choice of several different neighbourhoods, all within a few minutes walk. The soothing carillon bells heard during the day are the cherry on top!
05 September 2019
Magnifiques espaces et superbe endroit où travailler dans le calme !
06 September 2019
Great location opposite the station, great vibe
09 September 2019
Magnifiques déco, super endroit inspirant pour travailler, hôtesses accueillantes, en gros un super lieu de travail!
08 October 2019
Very nice Location, just not for us.
Add new comment