Office plants. Trends and benefits of plants in the office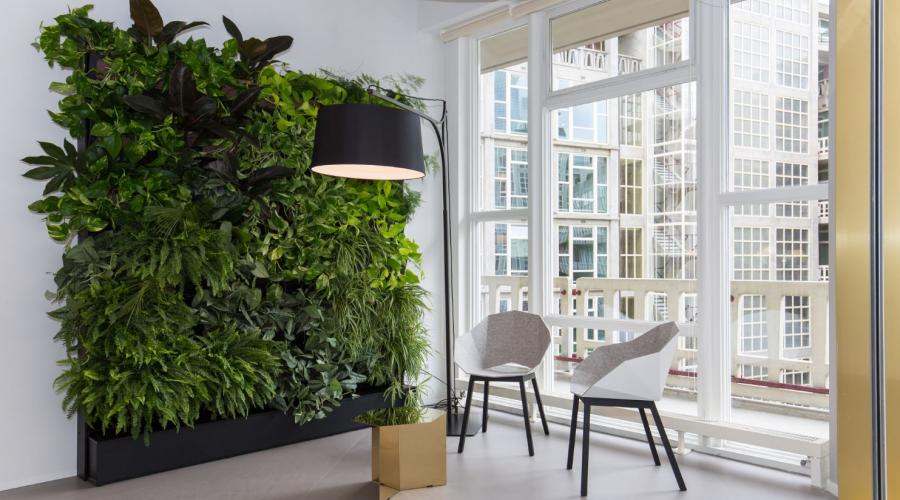 The latest trends and all about the hippest and best office plants 
Office plants give your office a peaceful and pleasant atmosphere, but finding the right plant for your office can still be quite tricky. It has to suit your office of course; do you have the space for it and how much time do you want to spend on it? These are all options you should consider. 
Creative with little space 
Having plants in the office is desirable, but what if you have a small office with little space? There are plenty of possibilities! With a little imagination, anything is possible. 
Think, for example, of a plant garden on your balcony/roof terrace. Putting plants here can create a pleasant atmosphere in your office without taking up (much) space! Another way of creating greenery in your office space is to cover a wall with office plants, a so-called 'living' wall or vertical garden. This takes up little to no space but gives the office a green feel. Above you can see an example as it looks at one of our offices in Rotterdam! 
Of course, such a vertical garden also looks great on the outside walls of your office! But do consult your landlord first, because alterations to the outside of an office are not allowed to be made just like that. 
When you have several units in your office, it is also an option to replace the partition wall with a vertical garden or greenhouse. You can place office plants in this greenhouse! Such a partition wall with office plants has all the advantages of greenery in the office without taking up much space. In addition, a planted wall perhaps has an even more dampening effect than a partition wall. Ideal when you want to minimise the noise between two parts of the office. 
Another way of creating greenery without using the whole wall is to make a green painting. Take a frame and put small plants in it. This way you still have green without having an excess of plants. 
Finally, you can hang the plants on the ceiling or wall. You could, of course, just hang a planter from a string, but why? Wall and hanging plants are totally in! Nowadays, you have a wide range of walls and hanging plants to choose from. Beautifully designed with a glass container or, for example, with robust ropes around the pot! Your office will be totally up-to-date with this trendy addition of office plants to the wall and/or ceiling! 
Image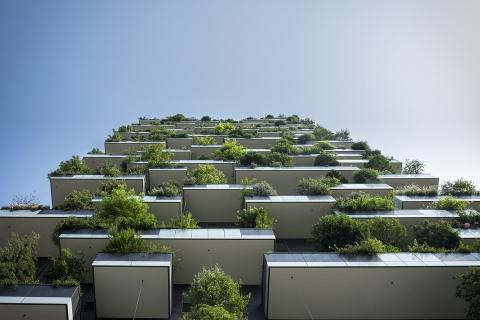 Lots of space available? Make something of it! 
Of course, it may be the case that you have more than enough room to put plants. If you have space to spare, it is better to put up a nice houseplant than nothing at all! It is good for the indoor climate and also reduces stress in employees! Use a nice big pot and a cool plant. You will be amazed by the result! 
Do you really have a lot of space? Then consider a small tree or something similar in the middle of an office to give employees and guests a feeling of space and calm. You could even go so far as to create an indoor garden. Turn part of the office into a garden and turn it into a relaxation area! 
Don't feel like it or don't have time? There are also user-friendly plants! 
As an entrepreneur, you are always busy, and ideally, your employees don't have much time to think about houseplants all the time either. For companies that are very busy but still want greenery in their offices, there are plenty of options. Think of user-friendly and low-maintenance plants. A cactus or a succulent are excellent examples. The good thing is that both plants are immensely popular these days and immediately make your office a lot trendier! The possibilities are endless. It saves a lot of time and still creates the atmosphere you want at the office. 
You only need to water these office plants once every 4 weeks. Preferably put them in a sunny spot and you don't have to look after them. The ideal plant if you are away a lot or don't have time to work on your green fingers. However, it is wise to make someone responsible for their care. 
Of course, you can also buy a plastic plant. However, these do not have the advantages of a living plant when it comes to health. But it is easy to maintain! 
Image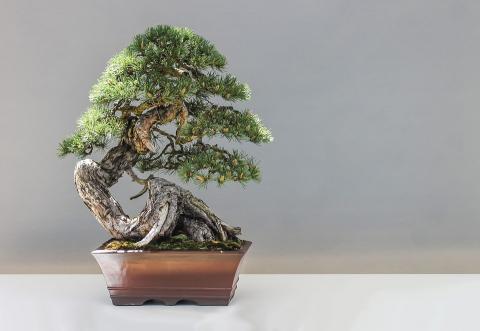 Green fingers? Then go for high maintenance! 
If you have green fingers, a plant that needs a lot of maintenance can be a distraction. A moment of rest in the already hectic days while taking care of such a plant is not a bad thing at all. A bonsai tree would be ideal for this purpose; they require a lot of maintenance and decorate your office nicely! 
Too busy, no sense and/or green fingers? 
Don't have green fingers or just don't feel like taking care of the plants at the office? Then you can also choose to outsource the care of your plants. This way, you can choose the plants you want without having to take care of them. It will cost you a bit more, but there are several companies that will do this for you with all their love. 
To conclude 
In short, office plants offer many advantages. But first, think carefully about what your specific needs are and choose a plant that meets them. Do you have a lot of space available or do you need to pay attention to the space you have available? Are you prepared to pay attention or do you want a low-maintenance plant? Choosing a high-maintenance plant is always possible, of course, as long as it can be looked after!