What are the office space prices in Berlin?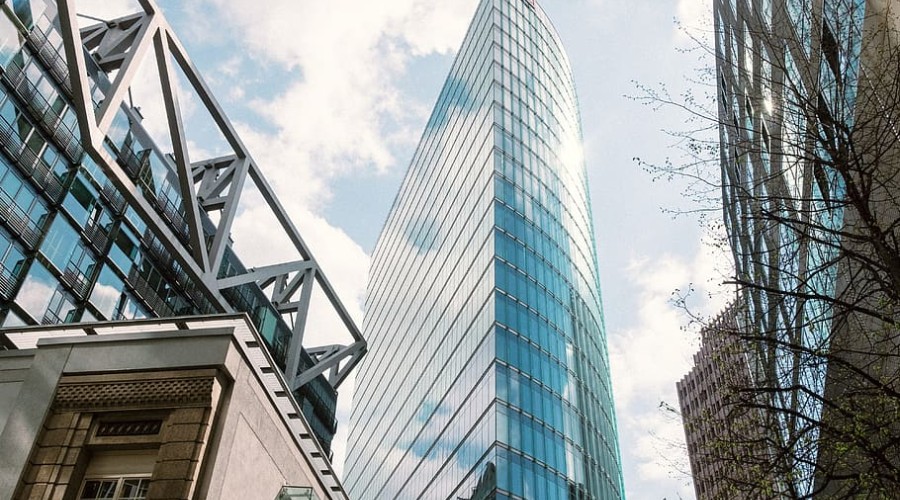 Berlin is one of Europe's most dynamic cities and is quickly becoming a hub for startups and tech companies. The city is known for its vibrant art and cultural scene, rich history, and thriving business community. Berlin has a diverse and highly educated workforce, making it an ideal location for businesses looking to tap into the European market. 
When considering office space in Berlin, there are a variety of factors to consider. Office space prices in Berlin vary from €15 to €38 m2/month in average. Rent is the base cost for the use of the space, which may be charged on a monthly, quarterly, or annual basis. Service charges may also be added for amenities such as cleaning and maintenance. The inclusion of additional amenities and services can vary greatly, from internet and telecommunications, to access to common areas and meeting rooms. The location of the office space is also important, with spaces in more central or sought-after areas often commanding higher prices.  
At Flexas.com, we specialize in helping businesses find the perfect office space in Berlin. Our team of experienced brokers will work with you to understand your specific requirements and help you find the space that best suits your needs. Whether you're a startup or a large corporation, we have the expertise and resources to help you find the right office space in Berlin. With a wide range of properties available and updated market data, we can help you find the perfect location for your business at the best price. Contact us today to start your search for the ideal office space in Berlin.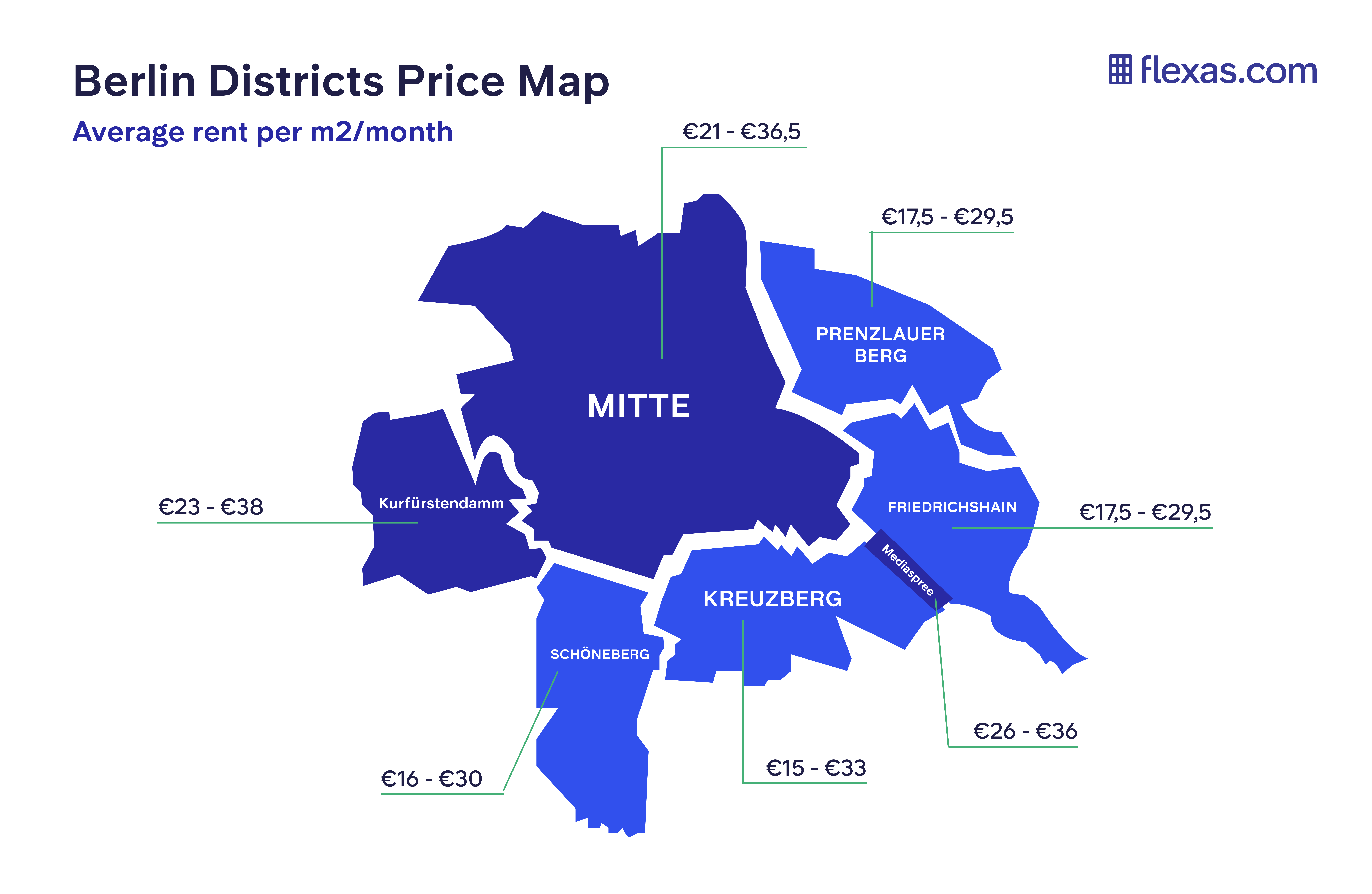 What is included in the

Berlin

office space prices

?
The inclusion of amenities and services in office space rates varies based on the provider and kind of space. Berlin office space rent price is the base fee for using the office space, and it can be charged monthly, quarterly, or annually. Cleaning and maintenance services may also incur service costs.  
Amenities such as internet and telephones may also be included in the price of office space, however this varies greatly depending on the office space provider and kind of space. Serviced office spaces, for example, generally feature a variety of facilities such as furniture, utilities, IT assistance, greeting services, and access to conference rooms and communal areas. Co-working spaces, on the other hand, often provide basic amenities such as high-speed internet, printing and scanning, and access to shared areas, but extra services such as dedicated phone lines, mail processing, and parking may incur additional expenses.  
The location might also influence the Berlin office space price. Due to their availability and accessibility, office spaces in more central or attractive locations tend to cost more. Some office spaces may also feature advantages such as access to common areas and conference rooms, while others may not. 
Flexas.com can help evaluate the Berlin office space prices and the included amenities and services, and to compare the different options available, before making a final decision, our professionals can provide valuable insights, market analysis, and access to a wide range of properties to help find the best office space for your business needs. 
How do the prices differ in

Berlin

for each district?
District

Average rent per m2/month

 

Description

Mitte

€

21 –

€

37

The central district of Berlin, housing many international companies and offering a mix of historical and modern office spaces.

 

Prenzlauer Berg

 

€

18 –

€

30

An upscale district known for its vibrant atmosphere, offering a mix of residential and office spaces.

 

Friedrichshain

 

€

18 –

€

30

A modern district with a growing number of office buildings, known for its nightlife and cultural scene.

 

Mediaspree

 

€

26 –

€

36

 

A hub for media and tech companies with modern office spaces and ample amenities

 

Kurfürstendamm

 

€

23 –

€

38

 

A prestigious shopping and dining district with a historical charm and high-end office spaces

 

Kreuzberg

€

15 –

€

33

 

A vibrant district with a growing number of office spaces, offering a unique working environment and easy access to the city center.

 

Schöneberg

€

16 –

€

30

 

A diverse and well-connected district with a rich cultural heritage and affordable office rentals
Is it possible to travel to an office space in

Berlin

with public transportation?
Berlin has all possible kinds of public transportation – buses, trams, metro and trains. It allows traveling around the city quite quickly and avoid possible traffic jams. Since the transportation network is well developed, it takes no time to travel from one place to another, which makes it very convenient and as well quite affordable for your employees to get to the workplace.  
How to find an office space in Berlin?
Feel free to contact our office space specialists at Flexas.com, they are always ready to help you with providing more detailed information about office space prices in Berlin, their availability and prices. Furthermore, they will be pleased to help you with selecting you next office space, which is a completely free service.