What is a satellite office? 4 reasons to rent a satellite office!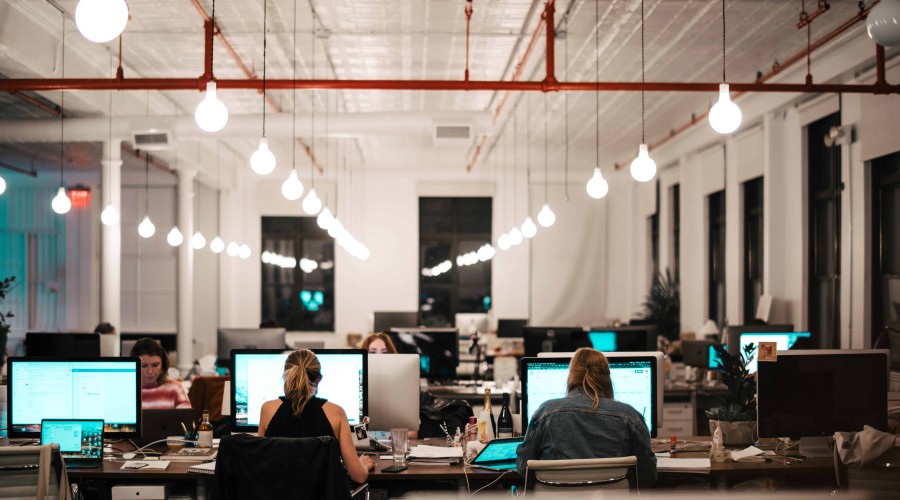 You want to know what a satellite office is? In this article you will learn exactly that! 
For any business, location is an important decision that deserves a lot of consideration. There are several components to consider when deciding on the right location, such as business outlook, status, cost, accessibility and comfort.  
Issues with the location can be a continuous process that companies have to deal with. Both growth and changes within the company can create different needs in terms of location of the company. 
Whether you're a start-up, scale-up or corporate company, location doesn't have to be limited to a single headquarters in a big city like Amsterdam, Paris or Brussels. Working remotely is something we are used to by now. So, even if employees are not physically in the same building, they can still work well together and deliver the expected performance.  
Satellite offices offer you a solution. They can provide more flexibility to grow and also serve as a flexible shell of the leased real estate (mostly) with shorter terms. 
What is a satellite office?
A satellite office can be thought of as a dependence or also called a branch office. It is a part of a larger company that is physically separated from the headquarters and may even be located in other cities or countries. In many cases, these workplaces are a bit more modest than an organization's headquarters.  
Nowadays, very flexible and beautiful locations can be rented from trendy operators and building owners. Beautiful satellite offices can also be found with the help of Flexas.com. Our specialized professionals can help you find an office that suits your needs. The services provided by Flexas.com are 100% free! 
What types of businesses is this for? 
Now that we know what a satellite office is, we should know what types of businesses it is for. There are many types of organizations that can use satellite offices. In most cases, it includes the following companies: 
Businesses with limited space
When the organization grows, the need for more space grows as well. If there are no opportunities to expand within the current office, then a satellite office would be an option to consider. The advantage of this is that the organization can continue to grow without having to make a large-scale move, while at the same time you can grow your business.  
An additional benefit is that you can look for a location where you can also attract more easily well-qualified staff. For them, the short travel time can be an extra motivation to choose your company. If the whole company has to move, a satellite office can be useful. This satellite office can then serve as a base of operations for the crucial processes that can continue as usual.  
This satellite office that attracts well-qualified staff can also be called a satellite location. In contrast, there are "plug and play" offices that can be rented even for a very short term. 
Businesses, who are looking for collaborations 
It is not always smart to invent the wheel yourself. If you know that other companies have been doing it for a long time and are better at it. 
Nowadays, innovative companies are more often looking to collaborate trying to grow faster with more expertise and gain synergy benefits. For such circumstances, satellite offices can help establish an environment where different companies can work together in one workspace or building. 
In that case, both companies gain the opportunity to develop and help each other with the challenges ahead. Some examples of well-known partnerships: 
They may put some of their employees together in a satellite office to develop their collaboration. 
Businesses, who are looking to reduce costs
Every company tries to control their costs as much as possible to maximize profits or to be able to invest more to promote growth. A large headquarters in a prominent location is for many companies less cost effective. Again, a satellite office can provide a solution.
For example, situate a headquarters just outside the city where, the administration and all the boring but essential work is done. You can combine that with a relatively small satellite office at a location in the city centre, where customers can then be received and the large orders can be brought in.  
In the inner city there are always many facilities available such as restaurants and entertainment venues to give more strength to negotiations and to get to know each other better. 
Expanding the network of your employees
A good satellite office example of this type is the Kendall Square in Cambridge Massachusetts. This is an internationally recognized innovation centre where they focus on innovation, imagination and resourcefulness. By opening a satellite office in a building where more of these company types are located, cross-pollination can occur that benefits all companies.  
This cross-fertilization is further stimulated by creating flexible workspaces. Each established company in the building can and may work at these flexible workspaces. In this way, employees of different companies are literally sitting next to each other and learning from each other.  
This also creates new collaborations between companies. An additional advantage is that the prestige increases when you and your company are located in that specific spot, even though it is actually a satellite office. 
Benefits of a satellite office
Now that we know what a satellite office is and what it is for, we can list the benefits: 
Many organizations do not realize this, but satellite offices can serve as an essential aspect for staff recruitment. An excellent talent pool prefers to work in a prime location that is equipped with various amenities such as a lounge, gym, bar and good food etc. By setting up a satellite office in such an area, you can leave a positive impression that attracts the best talent.
A question for your organization could be: What is a nearby satellite office, that can help you find better qualified staff? 
Not all employees of a company need to work in the same location. While some employees need to work near your customer base, others employees who are less location-bound can work in office which reduces costs.  
The location of your business can have a positive impact on customers, potential employees and investors. A shabby location will leave the wrong impression. 
Aspects to consider before opening a satellite office
Of course, there are certain things to keep in mind before you come up with the idea of opening a satellite office for your business. Here are a few factors to consider: 
If a good location of your business is important to meet business goals, then a satellite office is definitely worth considering. 
When talking about "What is a benefit of satellite offices?", location is commonly one of the first benefits talked about. 
Location is commonly the main benefit when talking about satellite offices. 
Your primary motivation behind a satellite office may be to leave your footprint in a particular area or country. Even if the location is not that important, you should explore different options, such as different neighbourhoods and their costs. 
How easily your employees can reach the office also plays a very important role. It has a direct impact on their productivity and overall job satisfaction, both of which contribute to employee retention. Take a good look at what sort of transportation your employees primarily use and whether the office is compatible with them. 
For example, if most employees prefer cars, then public transportation may not be as important. For employees who do not have a car, it is of great importance to have a good public transport connection. 
This factor is highly dependent on the current growth of your business. If your business is growing rapidly, you should look for flexible leases rather than agreements that limit you in the long run. You can also look for a satellite office where you can easily scale up and down, so you can always quickly have the office space you need at the time. 
When you operate in multiple locations, it is important that the internet infrastructure is reliable and fast. This allows everyone to work quickly and efficiently. The different teams remotely need to communicate in an effective way with each other and a reliable internet connection is of course essential for this. The satellite office will therefore have to be able to meet these requirements. 
What is a good satellite office for you?
Now that you know what a satellite office is, it could be an excellent alternative for developing organizations and even for organizations that want to grow rather sooner than later. As with any business choice, you must weigh the pros and cons and what such a move would mean for your operations.  
Looking for a satellite office? Flexas.com can help you with finding a satellite office that suits you. Contact our specialized professionals today! All the service provided by Flexas.com is 100% free!
Want to learn more about flexible workspaces? Read our article: 5 benefits of flexible workspaces that will make you move office!