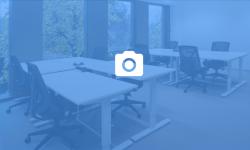 Photos available soon
In this office it is possible to scale up and down. This means that you can purchase more office space as you grow. It is often possible to scale up and down per month.
This office has a customer-friendly reception that welcomes your customers well and gives them a cup of coffee in advance.
This office has several meeting rooms which you can use as a tenant.
This office is 24/7 accessible
About this office on Rahel-Hirsch-Straße 10
Would you like to rent an office directly at the Chancellor's Office? Then decide on the Business Center at Rahel-Hirsch-Straße 10 in Berlin.
You can expect office space on the 3rd floor of a hyper-modern office building on the northern edge of the government district. As you can imagine with such a prominent address, nothing is missing here.
Technology, equipment and service are excellent here. You and your national and international customers will feel at home here. You will be professionally accompanied by the team on site. Parking spaces can be rented directly on site.
We would be happy to arrange a non-binding on-site inspection appointment for you.
Address
Rahel-Hirsch-Straße 10
10557 Berlin
This location provides office space with a fully functioning infrastructure, including I.T. and telephone services, furniture, utilities, etc. You are therefore able to move in immediately. You pay per person / desk on a monthly basis including costs such as heating, electricity, insurance etc. You can rent space for any period from one month to several years. Additional services such as meeting room rental, secretarial services, photocopying and I.T. assistance are usually available at extra cost. In addition to a fixed-term contract, you can also rent on a monthly basis and leave without notice or fine.
Services
What kind of services can I expect from this office?
Facilities
What makes this office space so special?
Accessibility
How to get to this office space.
Subway Berlin Central Station [ 5 mins walk ]
Train Berlin Central Station [ 5 mins walk ]
Bus Berlin Central Station [ 5 mins walk ]
Light rail Berlin Central Station [ 5 mins walk ]
Reviews about this office space
What do our customers say about Rahel-Hirsch-Straße 10
Add new comment