This office has a customer-friendly reception that welcomes your customers well and gives them a cup of coffee in advance.
This office has several meeting rooms which you can use as a tenant.
This office is 24/7 accessible
This office has high-speed fiber optic internet. 
In this office it is possible to scale up and down. This means that you can purchase more office space as you grow. It is often possible to scale up and down per month.
About this office on Fürstenrieder Straße 279
Are you looking for an office in South-West Munich? Opt for the  offices in Fürstenrieder Straße 279a.
There are various options available in this office building. Spread out on four floors there are offices available from around 11 - 36 m². Book one out of two meeting rooms by the hour and make you use of the equipment such as flat screen or beamer. On site, the professional in House team supports you with your daily work - choose from different service packages. All of the offices are fully furnished. Rental contracts can be discussed individually in terms of rental periods. There is one underground parking spot which comes with every office.
Address
Fürstenrieder Straße 279
81377 Munich
This location provides office space with a fully functioning infrastructure, including I.T. and telephone services, furniture, utilities, etc. You are therefore able to move in immediately. You pay per person / desk on a monthly basis including costs such as heating, electricity, insurance etc. You can rent space for any period from one month to several years. Additional services such as meeting room rental, secretarial services, photocopying and I.T. assistance are usually available at extra cost. In addition to a fixed-term contract, you can also rent on a monthly basis and leave without notice or fine.
Services
What kind of services can I expect from this office?
Parking
Where to leave your car?
On private property or garage
Facilities
What makes this office space so special?
Accessibility
How to get to this office space.
Subway Großhadern [ 30 mins walk ]
Bus Fernbus Haltestelle München (ADAC Zentrale) – Postbus [ 50 mins walk ]
The Neighbourhood of Fürstenrieder Straße 279
All in's and out's about the area.
These offices are located in southern / western part of Munich - Fürstenrieder Straße 279a. Right next to the highway A95 and A96 you can reach Munich Airport in around 40 minutes or in the opposite direction famous Starnberger See. The city center can be reached either by car or public transport (U-bahn "Holzapfelkreuth") within just a few minutes.
Look around the office.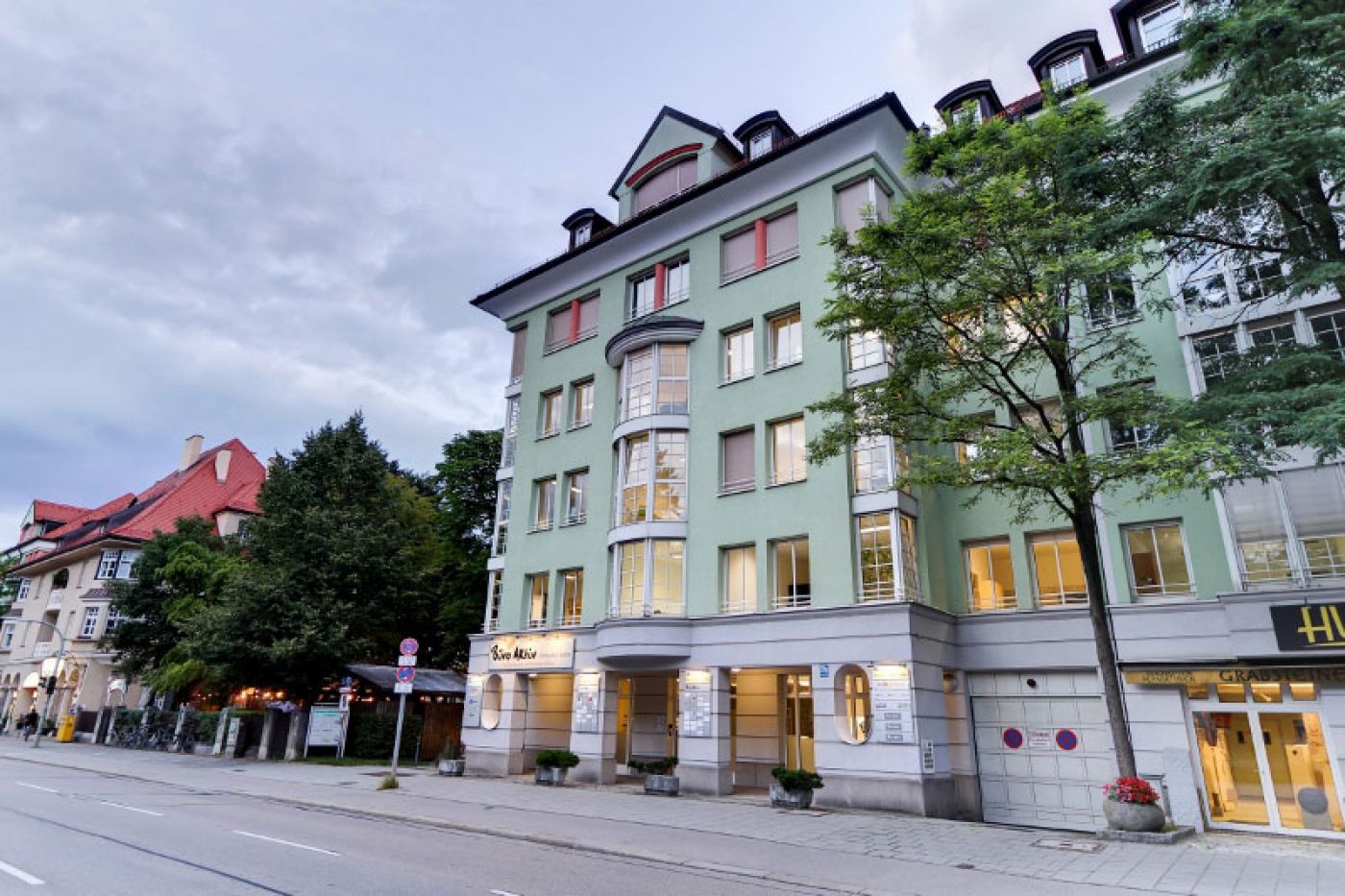 Click to view the virtual tour
Reviews about this office space
What do our customers say about Fürstenrieder Straße 279
04 November 2019
Hervorragende Beschreibung der Zufahrt zur Immobile vor dem Besichtigungstermin. Sehr freundlicher Empfang, kompetente und offene Gesprächspartner.
Die Führung war ebenfalls kompetent, alle offenen Fragen konnten während des termins erörtert und geklärt werden.
Schön, dass ich dieses Portal gefunden hatte :-)!
25 June 2020
etwas zu dunkel und außerdem die separaten Kosten nebenbei, ....war ich etwas überrascht
18 November 2020
Da ich ein möbliertes Büro ganz in der nähe von zuhause gesucht habe, hat sich die fürstenriederstraße wie für mich gemacht angeboten. Der Service vor, während und nach der besichtigung lief reibungslos ab.
Add new comment