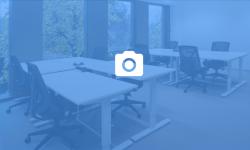 Photos available soon
This office has a customer-friendly reception that welcomes your customers well and gives them a cup of coffee in advance.
This office has several meeting rooms which you can use as a tenant.
This office is 24/7 accessible
This office has high-speed fiber optic internet. 
In this office it is possible to scale up and down. This means that you can purchase more office space as you grow. It is often possible to scale up and down per month.
About this office on Rue de Stockholm 3
Office rental in Paris at 3 rue de Stockholm.   
Set up your offices in the eighth arrondissement a few steps from Saint-Lazare station.   
Located in an ideal location in the capital, in a district that is in great demand by companies, you will enjoy one of the best possible locations in Paris.   
This modern business center will have everything to please you. A dynamic team is there to help you at any time and will take care of the management of your mail.   
Whether you are in a private office or in a coworking area, this business center is the ideal place to meet new professionals. This center also organizes several seminars and events allowing you to create your own network.   
The premises are furnished in a modern way and the cleaning is taken care of by the center.   
Address
Rue de Stockholm 3
75008 Paris
This location provides office space with a fully functioning infrastructure, including I.T. and telephone services, furniture, utilities, etc. You are therefore able to move in immediately. You pay per person / desk on a monthly basis including costs such as heating, electricity, insurance etc. You can rent space for any period from one month to several years. Additional services such as meeting room rental, secretarial services, photocopying and I.T. assistance are usually available at extra cost. In addition to a fixed-term contract, you can also rent on a monthly basis and leave without notice or fine.
Services
What kind of services can I expect from this office?
Facilities
What makes this office space so special?
Accessibility
How to get to this office space.
Subway Paris Saint-Lazare [ 4 mins walk ]
Train Paris Saint-Lazare [ 4 mins walk ]
Bus Malesherbes - Courcelles [ 12 mins walk ]
The Neighbourhood of Rue de Stockholm 3
All in's and out's about the area.
This business center has an ideal address.   
Located one minute from Gare Saint-Lazare, this business center is more than accessible by public transport. You can access it by metro with lines 3, 12, 13 and 14. By bus lines 66, 80, 94, N02, N15, N16, N51 and N52. Or by the Intercités, J, L, TER, Transilien J and Transilien L trains.  
The center is also located near the Quartier de L'Europe, this ideal address is appreciated by many companies. 
Reviews about this office space
What do our customers say about Rue de Stockholm 3
Add new comment