Window coverings in the office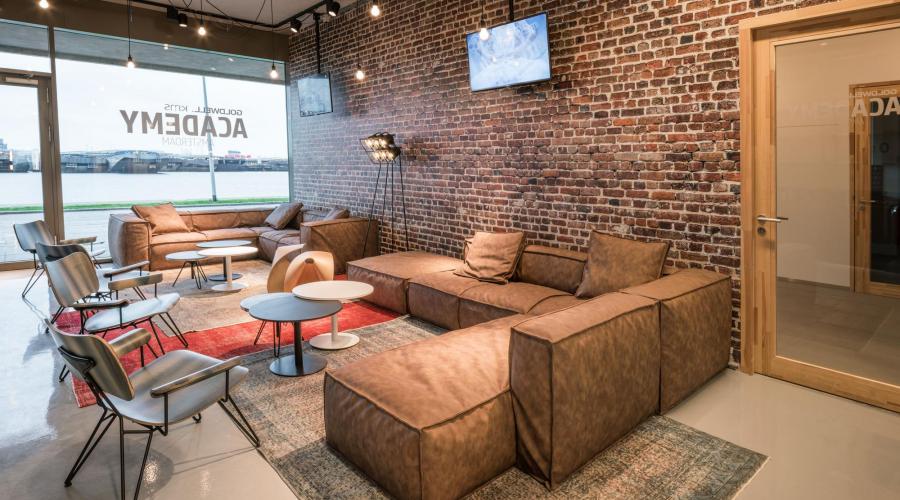 During certain hours of the day, you would have liked a certain type of window covering. Window coverings that reduced the bright light of the sun in your face or on your computer screen. With the right window covering, you can easily solve this problem. Another advantage: It looks nice and it is good for acoustics! 
There are many preconceptions about window coverings. Many people get the jitters from roller blinds and associate blinds with boring office buildings. But nothing could be further from the truth! There are endless possibilities when it comes to window decoration in the office. Made from soft fabrics, available in hundreds of colours, blackout blinds or just for privacy, wall-to-wall or for a small loft window. Depending on the purpose and style of your office, you can choose what suits you best. 
Best window coverings for the office 
Curtains for the office 
Curtains are by far the most popular in offices. Especially translucent roller blinds, because they create privacy in your office, let light through in an attractive way, and have little effect on the office climate. Roller blinds are best made to measure. Ideal for large windows as many offices have. Roller blinds are known for their ease of use and are easy to install.  Besides roller blinds, there are of course ordinary curtains, roman blinds, and the increasingly popular panel blinds. Panel curtains are now often used as partitions in open-plan offices. 
Image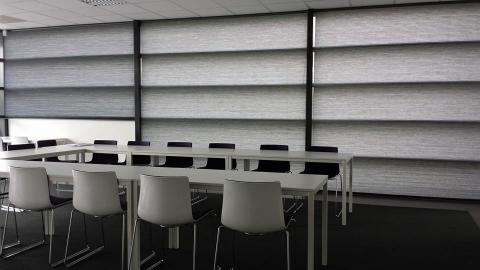 Window film for the office 
Another popular form of window dressing is window film. While window film isn't flexible like curtains, it does allow for a lot of creativity. It's possible to come up with your own designs and incorporate your company's logo into it, for example. 
Image
Other window coverings 
Blinds, Venetian blinds, pleats and duvets are all other forms of window covering. The advantage of this type of window covering is the adjustability of the blackout function. Ideal for the office, especially if you have a corner office and the intensity of the sun varies greatly. In some cases, there is also a top-down function, which makes it possible to open the window covering from top to bottom instead of just the other way round.  In this way you minimise prying eyes and distractions from the outside world. 
Image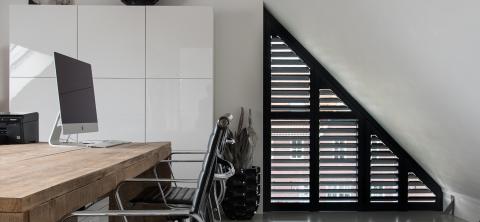 Advantages of window coverings in the office 
Concentration is important at work and at meetings. Window coverings can make an excellent contribution to this. It gives you a flexible option to screen off all or part of the room from the outside world or the rest of the office. Especially now that more and more offices are having glass interior walls. Other advantages of window coverings are 
Improving acoustics within offices; 
Creating privacy when needed; 
Darkening during presentations; 
Influence the indoor climate; 
The choice for window decoration 
Are you going to buy new window coverings for your office? Then first of all, think about what exactly you want to achieve with the window coverings. Each type of window covering and material has different properties and serves a different purpose. That is why it is sometimes handy to combine two types of window covering. For example, curtains and window film. 
Image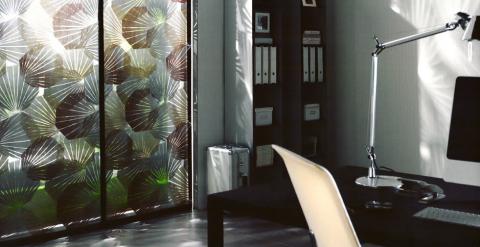 Would you rather have window coverings on the outside of your office? Always contact the landlord.