5 Reasons to rent an office space with garden or roof terrace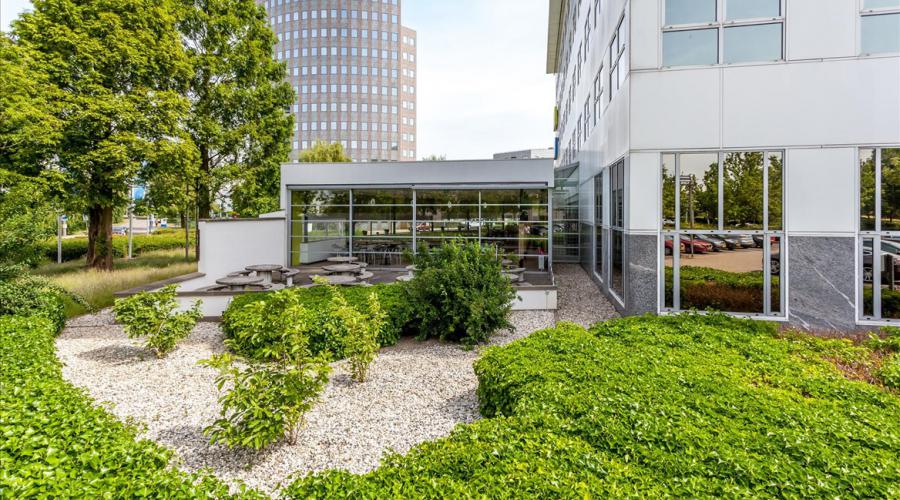 As a company, you naturally value the well-being of your employees. You provide ergonomic furniture, the right climate control and plants in the office. But no matter how good your office may be inside, employees need to be able to go outside once in a while. The outdoors not only has a relaxing effect on people but it also has many health benefits.
A pleasant and healthy work environment can easily increase the well-being and job happiness of your employees. More and more offices are focusing on sustainability, health and well-being. By giving your employees the opportunity to sit in the garden or on the roof terrace for a while, they can relax, breathe fresh air and then get back to work with a clear mind.
Therefore, consider renting an office with outdoor space. In this blog, we will explain 5 reasons why it is beneficial, for both your employees and your company, to have an office space with garden or roof terrace.
1. Fresh air benefits employee health
A human being is naturally made to be outdoors. However, these days we spend almost 90% of our time indoors, without daylight and fresh oxygen from the outdoors. It is therefore essential for employees to spend at least 15 to 30 minutes outside every day to maintain good health.
Among other things, outdoor air – specifically daylight and sunlight - stimulates the absorption of vitamin D. Adequate intake of vitamin D has several benefits: it gives you stronger bones, stronger muscles, reduces the risk of diabetes, reduces the risk of cancer and it is good for the heart.
Image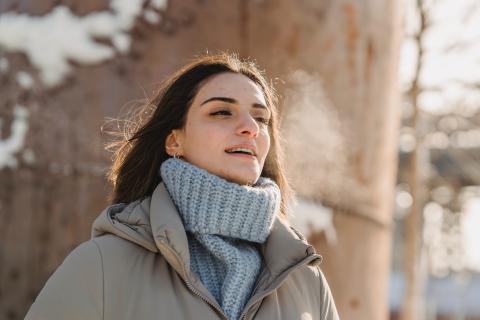 2. Outdoor air reduces stress and restores mental energy
Working in an office can be stressful for employees. From the hundreds of emails employees answer each day to strict deadlines, it can all get a little too much sometimes. When employees experience this frequently, it can affect their health and even lead to burnouts.
Taking a break in the open air or getting away from work can calm the body and mind. It is therefore important for the well-being of your employees to have, for example, an outdoor area near the office where they can relax for a while and take distance from the stress factors.
Prevent burnouts among your employees
On average, 1 in 6 employees suffer from a burnout 1. This can lead to an exhausted body and overworked mind or even to depression and insomnia. Taking a walk outside to get some fresh air can work wonders.
There are several studies that show that the outdoors lowers cortisol levels. Cortisol is a hormone that is produced by tension and stress. Also, fresh outdoor air lowers your heart rate 2. So, this allows you to calm down more and employees can get back to work with a fresh mind after a short break in the outdoors.
3. A garden or (roof) terrace is the perfect brainstorming or meeting environment
The outdoors has a positive effect on your brain. If your employees regularly step outside for a breath of fresh air, it can boost their creativity. By creating special workplaces with tables and benches, your employees can work on new projects together amidst the greenery or brainstorm together in a varied environment.
Did you know that creativity can go up by as much as 60% after a walk or breath in the fresh air? This is perfect for companies that often brainstorm in teams or where different departments work together to streamline or simplify processes.
Image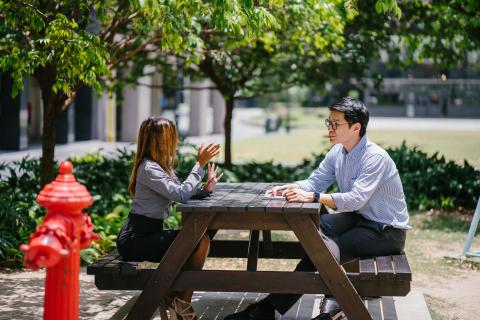 4. Working in an outdoor space increases productivity
While you, as a company, might think that working in the sunshine will decrease employee productivity, nothing could be further from the truth.
Spending some time outdoors or going for a walk makes the prefrontal cortex more active. This part of the brain is responsible for cognitive, emotional and motivational processes and becomes more active when we spend time outside. Among other things, this promotes tasks such as planning, impulse control and goal-setting. So, it makes your employees more productive.   
The renewed garden of Rabobank
Several leading companies have recognized the benefits of a garden or roof terrace. Therefore, Aegon, Ahold Delhaize and Rabobank, among others, have invested in an office with outdoor space to ensure that their employees stay productive and healthy.
Rabobank's Utrecht office even has an edible garden! Previously, Rabobank's garden was outdated and not user-friendly, so hardly any employees used it. Therefore, the whole area was redesigned so that the 6,500 employees can also work, eat and relax outside. Rabobank's garden features more than 180 species of perennial plants, including herbs, pick-your-own vegetables and nut trees. In addition, the garden has been designed to create workplaces with electricity and WiFi and benches with built-in solar panels where phones can be charged 3.
5. An office garden or roof terrace can promote teamwork
Many companies spend time and money on special team building events, professional consultants or special excursions to increase group bonding and encourage cooperation between different departments. Did you know that an office garden can also contribute to this?
Of course, it's still important to organize occasional events and excursions for employees but a shared garden or roof terrace can also provide benefits for employee collaboration and faster networking. A garden or roof terrace can be conveniently set up as a meeting place or workplace.
Having a garden or roof terrace with edible crops
You can also consider setting up your (roof terrace) garden as an edible garden, just like Rabobank. Employees with green fingers can work on it together and the crops grown can be used for the company restaurant or donated to local food banks.   
The use of own crops can in this way also contribute to an improved image of a company. It shows that the company is consciously working on sustainability and environmental management. You can really make a statement with this. It also allows a company to distinguish itself from other companies, making it an attractive element for potential employees.   
Image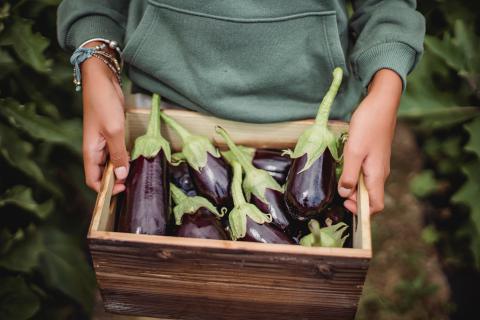 Are you looking for an office with garden or roof terrace?
So, renting an office with garden, outdoor space or roof terrace has several advantages. It contributes to productivity, cooperation and employee health, but it can also improve your company's image. Some leading companies have already realized these benefits. At Flexas.com we see the demand and supply of offices with garden or roof terrace growing.
Do you see the advantages of a garden or roof terrace for your company? Then our office specialists will be happy to help you. Our office specialists are well aware of the availability and can easily find the right match for you. Our service is 100% free of charge for tenants and we are happy to give you advice on renting a suitable office without any obligation.
Willem-Jan
van Heeswijk
Office Space Broker