10 must have office supplies to make your employees happy in 2023!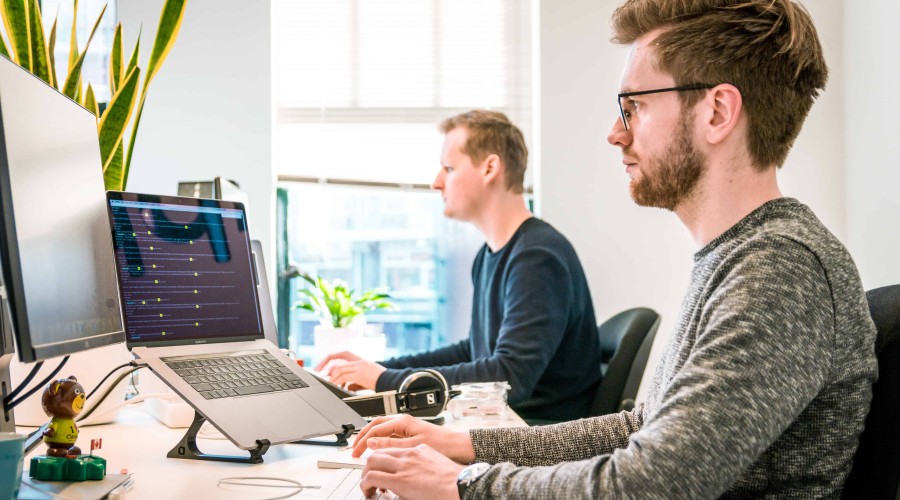 Every organization must consider the kinds of equipment that will enable its personnel to do their duties effectively. In this article we will share 10 must have office supplies that will make you employees happy!
Office supplies make it easier to manage office-related chores and get things done daily. Office supplies are frequently forgotten yet are quite important. Every employee should have access to the appropriate and essential tools to enable productive and effective work.
High-quality equipment benefits your business's reputation as well as your staff. Clients and business partners receive a favourable message when the workplace is well stocked. Furniture, commercial printers, collaboration tools, telephone systems, a reliable internet connection, and other items are considered basic office supplies. Here are the top 10 must have office supplies that will make your employees happy!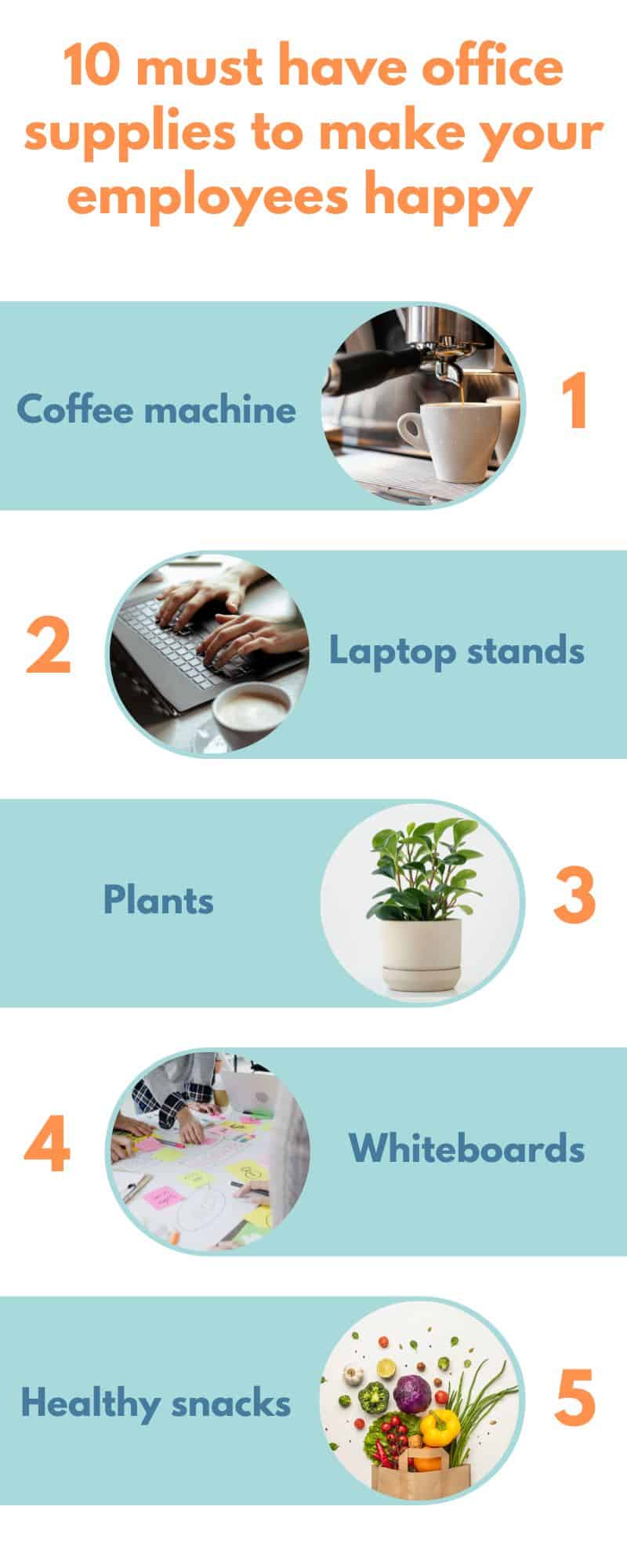 1. Coffee machine
A high-quality coffee machine in the office may contribute to a productive work atmosphere. Your staff members will be more enthusiastic, happier, and self-assured while speaking with other team members and customers. Regular coffee breaks may bring together co-workers and foster a sense of camaraderie among those who might not otherwise have a chance to interact. These conversations may also serve as the starting point for upcoming departmental cross-collaborations that will benefit your company financially.
2. Laptop stands
The most fundamental benefit of having a laptop stand is that it will make your workstation more ergonomic, which will assist with posture, relieve back and neck discomfort, and prevent future stress-related problems. 
Whether you work as a marketer, developer, designer, or even in finance and accounting, you probably spend a lot of time at your computer each day. Using laptop supports at the proper angles will relieve some of the strain on your wrists while you type all day. Laptop stands let you customize your workplace to your preferences, even if you choose to use a different keyboard with your setup. 
3. Plants
Being outside is good for our mental health but finding time to be outside may be challenging when you have a 9 to 5 office job. One approach to get back in touch with nature and bring the outside world inside is to include plants into your workstation. 
Numerous studies have demonstrated that include plants in office decor may enhance workers' perceptions of productivity. Nearly two thirds (58%) of office workers in 16 countries surveyed for the 2015 Human Spaces Survey do not have any live plants in their workstations. Employees with workspaces that included natural features reported 15% better wellbeing scores and 6% higher productivity scores than those with offices that did not. 
4. Whiteboards
Whiteboards foster teamwork among employees because they foster collaboration. Numerous users of the whiteboard at once implies multiple reactions and levels of participation from staff. Whiteboards may be a crucial tool to use in meetings and interviews if you want to communicate with your staff in the most effective way nowadays. Drawing and writing engage the user physically and cognitively, which will increase employee productivity. 
5. Healthy snacks
Having nutritious snacks available frees up employees from the burden of constantly deciding what to eat and where to obtain it, allowing them to concentrate on the decisions that are necessary for their employment. They can have a quick bite of a healthy food to keep them going for the remainder of the day. According to surveys, offering refreshments to office workers has a positive effect on the atmosphere of the workplace. According to 67% of those polled, the company-funded snacks make them happy at their current employment.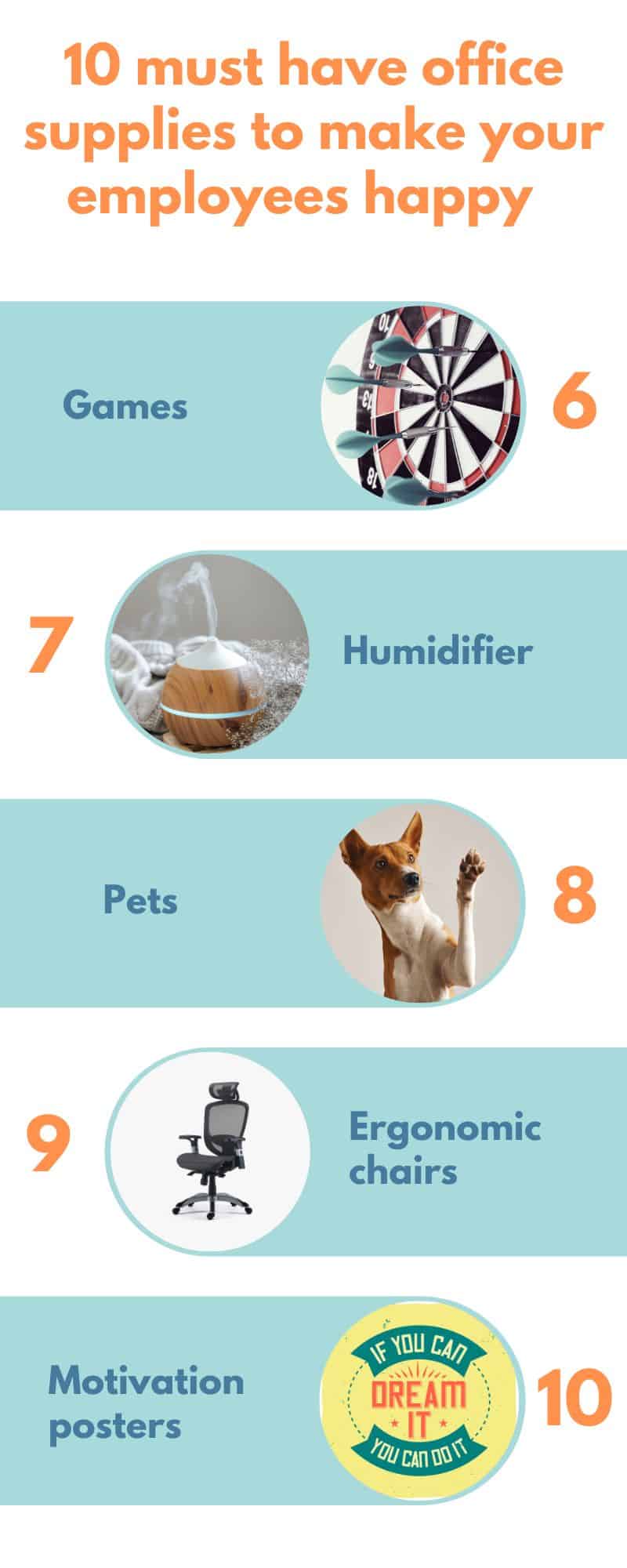 6. Games
Another big product of the must have office supplies are games! There are many different games and activities that can be brought into the workplace, and many of them not only increase employee productivity but also promote and enhance teamwork among the workforce of the firm. Fostering their relationship and enhancing their ability to cooperate.  
These activities can serve as icebreakers for team members who are timid by encouraging them to open and allow others to get to know them. Another good thing that results from these games is the healthy competition that may be created by them. 
7. Humidifier
Most people, especially those who work in offices, spend up to 90% of their time indoors. Various bacteria and viruses thrive in environments with dry or very wet air. These issues may be solved by installing an office humidifier, which enables workers to control the relative humidity in their workspace and, therefore, the air quality.  
By keeping the humidity at a comfortable level, there will be a significantly reduced danger of getting the common cold, the flu, sore throats, dry eyes, itchy and/or cracked skin, and overall discomfort. Particularly during the winter, properly humidified rooms seem warmer and more pleasant without drying out the air. 
8. Pets
It's always a good idea to bring you dog to the office! Employers and workers alike are learning more and more often how having pets at work makes everyone happy, reduces stress, and fosters a flexible, comfortable environment. Pets may foster a sense of community at work and spark relationships that otherwise would not have taken place. 
Increased trust, a crucial element of a productive work environment, results from improved communication. Trust and open communication counteract stress and boost output, boosting morale and lowering absenteeism. Additionally, less stress equals fewer illnesses linked to stress and the associated medical expenses. 
9. Ergonomic chairs
Your posture is something you need to be concerned about after spending hours sitting down. You've probably noticed that while using regular chairs with poor ergonomics, you tend to lean forward since the backs of those seats are too low. The ergonomic chair corrects that one abnormality. You can be confident that the chair will improve your posture thanks to its full-length design and support for natural posture. The lives of your employees might be significantly impacted by the correct office chair. 
Numerous studies have shown that picking workplace furniture that is both ergonomically built and comfy may significantly affect both employee satisfaction and productivity. 
Want to know how to choose the perfect office chair? Read our article: How to choose an office chair? 5 tips! 
10. Motivation posters
The last product of our must have office supplies are motivational posters. These posters, which range from the funny to the dramatic, are intended to motivate staff members and boost their productivity. Along with inspiring, motivational posters can serve other purposes. Their ultimate purpose is to increase employee engagement in finishing tasks or reaching targets, which will increase productivity.  
The most effective posters frequently have captivating and provocative designs. Additionally, customized posters tend to be more successful than generic ones. Asking employees to create their own motivational posters as a team-building exercise can be a good idea if you do decide to put them at your office. As an alternative, you might commission a specialist designer to make posters that are consistent with the principles and image of your business.