9 insights to pros and cons of coworking spaces. Are they worth it?
Check this full guide with the pros and cons of coworking spaces: all the advantages and disadvantages you need to know about. Are coworking spaces worth it?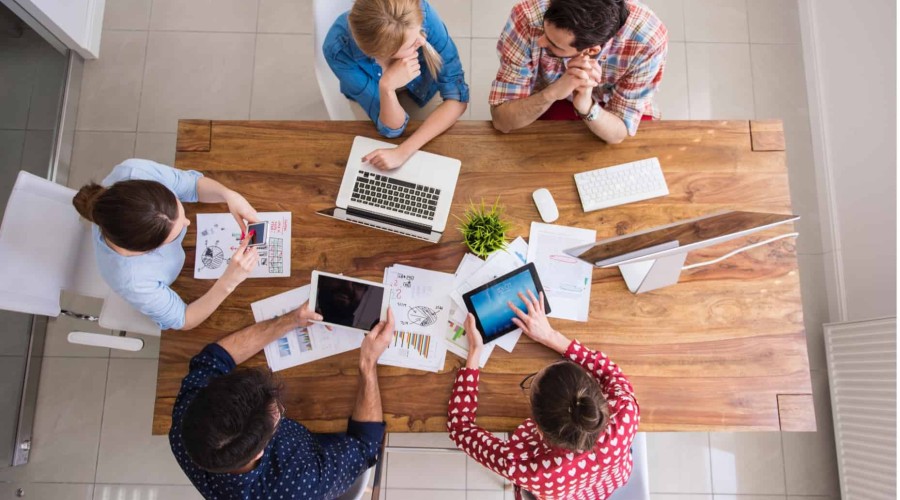 Nowadays Europe has about 6000 coworking spaces with around 3 million people working in them. So, what is coworking and why do people love it?  
In a coworking space people gather in a neutral area to work individually on different projects or in groups on the same project. Coworking spaces provide many of the same benefits as a regular workplace, plus a little extra.  
Since one doesn't have to sign a rental contract in a coworking space, flexibility is a key feature. Most of them have the essentials, such as Wi-Fi, printers, and generally some form of a meeting room, as well as tea, coffee, and snacks.  
Since people in this type of workspace aren't all employed by the same company, it differs from a traditional office. Therefore, it has different office space pros and cons, it is useful to know them before visiting a coworking space. But don't worry, we took care of it and summarised all the pros and cons of coworking spaces in this blog. 
Types of coworking spaces. 
Coworking spaces come in a variety of sizes and forms, which is one of their main benefits. When considering places, there are several factors to consider. Community, amenities, and the office environment are all elements that differ from one location to the next. In this part, we'll go over the many sorts of coworking that exist.  
Open Workspaces.  
These are the most common type, people from various organisations use shared areas in these sorts of workplaces, which feature desks or specialised desks. 
Private Workspaces. 
These private areas can be in the shape of an office or even unique suites designed purposely for big groups of people. Members of the same organisation either share a dedicated space or a combination of rooms that the business has leased or rented. 
Industry-Specific. 
These places are for people who work in the same industry. There are spaces designed exclusively for creative professionals, for instance. Graphic designers, photographers, and filmmakers may all work together under one roof. These industry-specific workplaces may include a mix of private and open areas. 
Venture/Incubators. 
The goal of these spaces is to recruit and finance businesses by giving them the resources they need to succeed. In return for participation inside the companies, investment firms often give lower rent or financing.  
Visual elements must be considered in addition to the types of spaces provided. Coworking spaces range from formal to trendy and laid-back. It's essential to pick a location that matches the company's culture. 
Flexas.com can help you finding any type of the office space. Check out available office spaces in Amsterdam. 
Even though it's a very convenient place to work, coworking spaces have their pros and cons. Let's go through the main ones: 
Top 6 advantages of coworking spaces: 
1. Networking potential. 
When one is surrounded by like-minded people in a coworking space who want to change the status quo, the chances of forming a powerful network start multiplying. People with similar views and interests will gather in these coworking spaces, resulting in beneficial user interactions. One could also meet individuals who are engaged in the same project as them and learn something new. 
In these locations, one may even discover new business partners or investors to help develop the company. Interacting with others will provide not just information, but also fresh avenues for achievement which might be beneficial for your business. 
2. Flexibility of the lease agreement. 
 This is one of the main advantages of a coworking place that individuals mention. There are different types of payments: 
monthly  
daily  
or even hourly  
Coworking companies provide a variety of lease arrangements to fit any kind of needs entrepreneurs and businesses may require. Furthermore, customers can always adjust if they don't like it and are dissatisfied with anything. Coworking spaces are less expensive than traditional office spaces for entrepreneurs with a small team.  
Rent for a full office can be paid for less than half of what it would normally cost. The greatest thing is that the room is already equipped with all conveniences, so there will be no need to worry about finding furniture as well as other office supplies. This helps to save money and is the main advantage of a coworking space. 
3. Comfort. 
Pinball tables, pool, and gaming systems are just a few of the pleasures of renting a coworking space. Start-ups are motivated to relocate their headquarters to such a location due to the amenities such as cafes and relaxation areas. The opportunity of obtaining free benefits of such places is a gift, it would cost one a lot of money to build such an area in the office. 
4. Flexible working hours. 
People who work in coworking spaces have the freedom to come and go as they like. Young entrepreneurs, students, remote workers, digital nomads, travellers, the list is almost endless, all of them believe coworking spaces are worth it thanks to this benefit. They can choose workhours that are convenient for both themselves and their company.  
Additionally, coworking spaces have provided an option for organizations looking to acquire employees from outside their location. They may provide memberships to coworking spaces to their remote employees without having to move them. 
5. Creativity. 
Connecting with like-minded individuals and firms provides a wealth of knowledge and ideas that one may apply to their next company project. Changing the work atmosphere is a great way to clear the mind and reflecting with other people may help people to get more creative. 
6. Work and travel. 
Coworking spaces make it easier to be a freelancer or a digital nomad. This way one always has an office that includes both a working atmosphere and connections. Sometimes it gets hard to work being alone or just staying at home or at the same café all the time, and coworking spaces are a great way for a change of scenery and environment, as well as to get inspired and boost creativity. 
Top 3 disadvantages of coworking spaces: 
As any other type of an office space, coworking spaces have both pros and cons. Let's have a look at some possible cons so you know what to expect. 
1. Reduced productivity.  
Coworking space is extremely popular among remote workers or digital nomads. The primary reason for their visit is to boost productivity by imitating the office atmosphere that has been established exclusively for customers.  
However, keep in mind that such locations are likely to be crowded and sometimes noisy due to groups of individuals gathering there to work on various projects, resulting in a variety of distractions. Since it is uncontrollable, it may reduce productivity rather than increase it. This is one of the main disadvantages of coworking spaces, that can be seen in almost everyone.   
2. Lack of privacy.  
Different types of coworking spaces exist; some are smaller and have isolated zones, while others are  open areas that accommodate a lot of people. Many people want to make a personal call, participate in an online team meeting, or negotiate a contract with clients.  
Privacy and silence are necessary for such situations, which are not always present, making it a disadvantage of a coworking space. When having a great deal of work calls throughout the day, make sure the area has phone booths or spaces where it's comfortable to have private chats. 
Therefore, your company might prefer renting an office space, instead of using a coworking space. Fill in the contact form or call us, we are always ready to help! 
3. Opening hours.  
While such facilities afford to support flexible working hours, it is important to remember that they are typically open from 9 to 5. Some may see it as a benefit, whereas freelancers, for example, may disagree. It's still better than working from home because it creates an office environment, though for businesses that need to be flexible, keeping the office open during regular business hours may not be the ideal option. 
So, are coworking spaces worth it?  
Coworking spaces allow you to try out new markets and concepts. You may assess the chances of commercial success without having to spend months looking for an office space, let alone outfitting, cleaning, or fiddling with internet access. There are different pros and cons of coworking spaces, in this blog we tried to outline the main ones.  
But everyone decides for themselves if such spaces are worth it, what one person sees as an advantage, the other might see as a disadvantage of a coworking space. It fully depends on one's preferences and type of work they do. 
Need any help from Flexas.com? 
Are you looking for a commercial real estate agent to rent an office space or to find a suitable coworking space? Then you've come to the right place at Flexas.com! Searching by yourself? Use the search function to select a specific area. Or leave a search inquiry with our office specialists.  We can help find a suitable solution for your team! 
View offices in Amsterdam Contact our experts
Read more: 
Willem-Jan
van Heeswijk
Office Space Broker