This office has a customer-friendly reception that welcomes your customers well and gives them a cup of coffee in advance.
This office has several meeting rooms which you can use as a tenant.
This office is 24/7 accessible
This office has high-speed fiber optic internet. 
About this office on Claude Debussylaan 10
There are offices and workstations available at the Claude Debussylaan inisde the Viñoly tower.  This tower is a real eyecatcher and is part of the Mahler 4 complex. The premises consists of twenty-three floors and is one of the tallest buildings in Amsterdam. The building has office units available from 20m2 including services and support. The office units range between 2 and 8 workplaces.
Address
Claude Debussylaan 10
1082 MD Amsterdam
This location offers managed office spaces. The services provided by managed office locations varies per location. These are often unfurnished private office spaces. For more information about the managed office options within this location, please feel free to contact us.
This location provides office space with a fully functioning infrastructure, including I.T. and telephone services, furniture, utilities, etc. You are therefore able to move in immediately. You pay per person / desk on a monthly basis including costs such as heating, electricity, insurance etc. You can rent space for any period from one month to several years. Additional services such as meeting room rental, secretarial services, photocopying and I.T. assistance are usually available at extra cost. In addition to a fixed-term contract, you can also rent on a monthly basis and leave without notice or fine.
Services
What kind of services can I expect from this office?
Parking
Where to leave your car?
On private property or garage
Facilities
What makes this office space so special?
Accessibility
How to get to this office space.
Train Amsterdam Zuid [ 3 mins walk ]
The Neighbourhood of Claude Debussylaan 10
All in's and out's about the area.
The office space in the Viñoly tower is surrounded by many large office buildings on the Zuidas in Amsterdam. The area has recently been developed and is now known as the international business center of Amsterdam. It is also a prime location for living, working and recreation. The area is bustling with activity, thanks to the diversity of the companies that have their offices here, such as the largest law firms and banks in the Netherlands. You will find everything you could possibly want from an ffice space right here, such as  several restaurants, cafes, sports and educational facilities, and convenience stores.
The Zuidas is an ideal office location to settle in and is easy to access for yourself as well as for clients. The A10 motorway runs right along the Zuidaswith ramps and exits from both directions, so reaching the office is easy. You will find the Amsterdam Zuid train station as well as the Station Zuid underground (lines 50 and 51) at walking distance. Tram 5 and bus 242 also stop here.
Look around the office.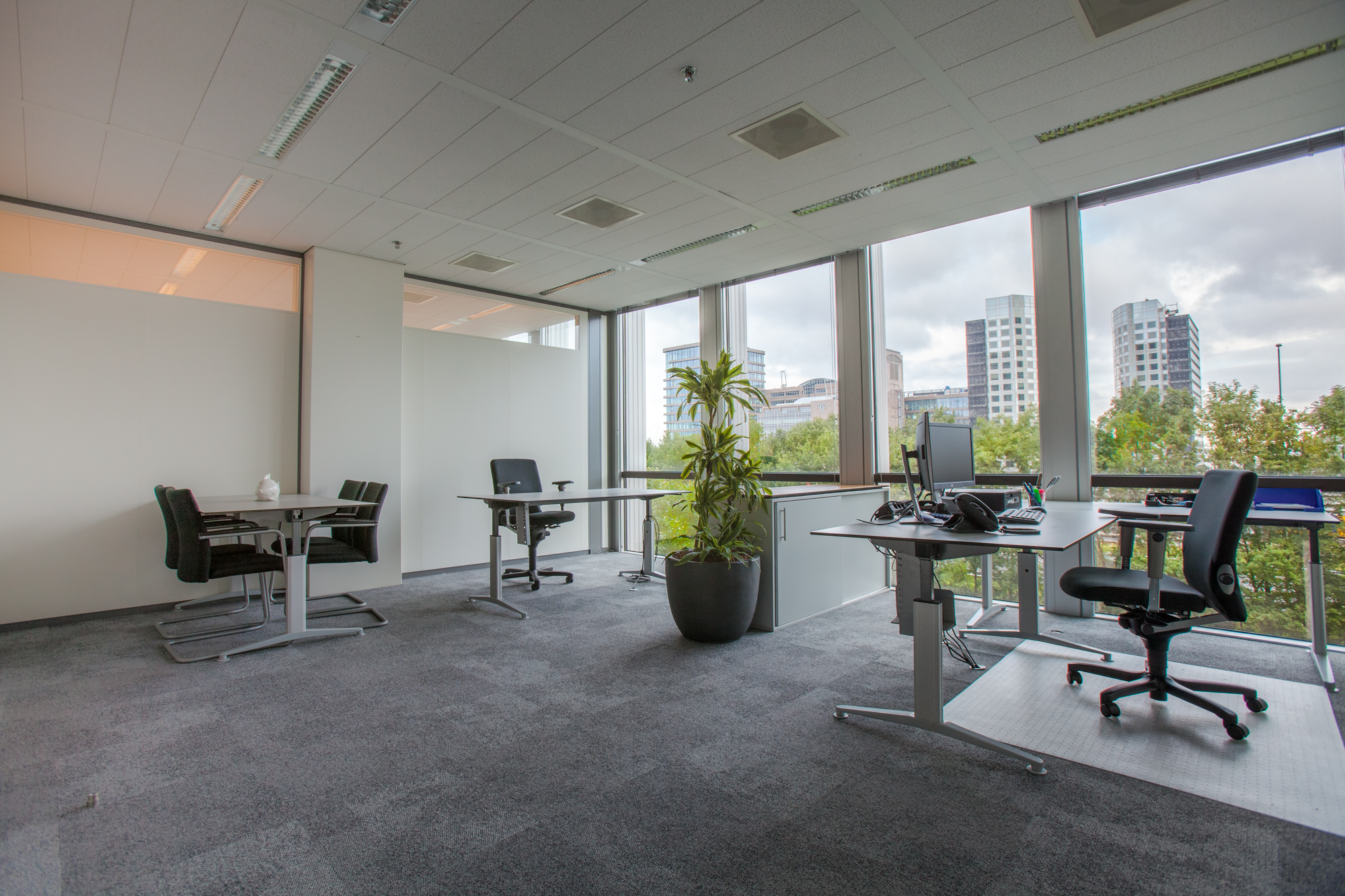 Click to view the virtual tour
Reviews about this office space
What do our customers say about Claude Debussylaan 10
29 November 2019
Goed voor een beginnend bedrijf. Veel privacy en voldoende ruimte.
10 October 2017
Dit gebouw scoorde hoog op alle punten, behalve op de beschikbaarheid van silent-rooms. Is in onze shortlist opgenomen.
27 July 2017
It was good. They really helped me. I am really glad that you send me there
02 May 2016
Hele mooie kantoren, in het financiële hart van Amsterdam
20 January 2016
Een goede locatie speciaal voor internationale bedrijven die opzoek zijn naar wat meer begeleiding met het vestigen van hun bedrijf in Nederland, maar de kantoren zijn erg klein.
Add new comment