This office has several meeting rooms which you can use as a tenant.
This office is 24/7 accessible
This office has high-speed fiber optic internet. 
In this office it is possible to scale up and down. This means that you can purchase more office space as you grow. It is often possible to scale up and down per month.
About this office on Overschiestraat 63
Are you looking for a beautiful office space in Amsterdam? In the south of the city, in Riekerpolder, office spaces are available in a beautiful office building. The office spaces vary in size from 20 to 200m². The floor you will rent is shared with (young) ambitious scale-ups and startups, which provide an inspiring office dynamic.
Due to the design of the building, the office building is a striking appearance. Once inside, you imagine yourself in a stylish reception hall from where you can take the stairs or elevator to the higher office spaces. Each floor has shared toilet groups, a galley and meeting rooms. There is also a gameroom and lounge area available.
This office is currently undergoing a major make-over into Amsterdam's hippest and newest office. As a new tenant you can be assured of new design, the most luxurious appearance and the best facilities. If you are on time, you too may be able to find a place! 
Address
Overschiestraat 63
1062 XD Amsterdam
Empty space | Conventional
This location offers conventional options. This means the renting of office space directly from the landlord of the building. Internally, the space can be used according to your own wishes (possibly with permission of the landlord). You will need to manage and maintain all facilities, e.g. arranging space planning and furnishing, I.T. and telephone systems, furniture, cleaning, energy bills and service costs. Conventional office space is rented for a price per square meter per year.
This location offers managed office spaces. The services provided by managed office locations varies per location. These are often unfurnished private office spaces. For more information about the managed office options within this location, please feel free to contact us.
This location provides office space with a fully functioning infrastructure, including I.T. and telephone services, furniture, utilities, etc. You are therefore able to move in immediately. You pay per person / desk on a monthly basis including costs such as heating, electricity, insurance etc. You can rent space for any period from one month to several years. Additional services such as meeting room rental, secretarial services, photocopying and I.T. assistance are usually available at extra cost. In addition to a fixed-term contract, you can also rent on a monthly basis and leave without notice or fine.
Services
What kind of services can I expect from this office?
Parking
Where to leave your car?
On private property or garage
Facilities
What makes this office space so special?
Accessibility
How to get to this office space.
Subway Henk Sneevlietweg [ 7 mins walk ]
Bus Amsterdam, Henk Sneevlietweg [ 10 mins walk ]
Look around the office.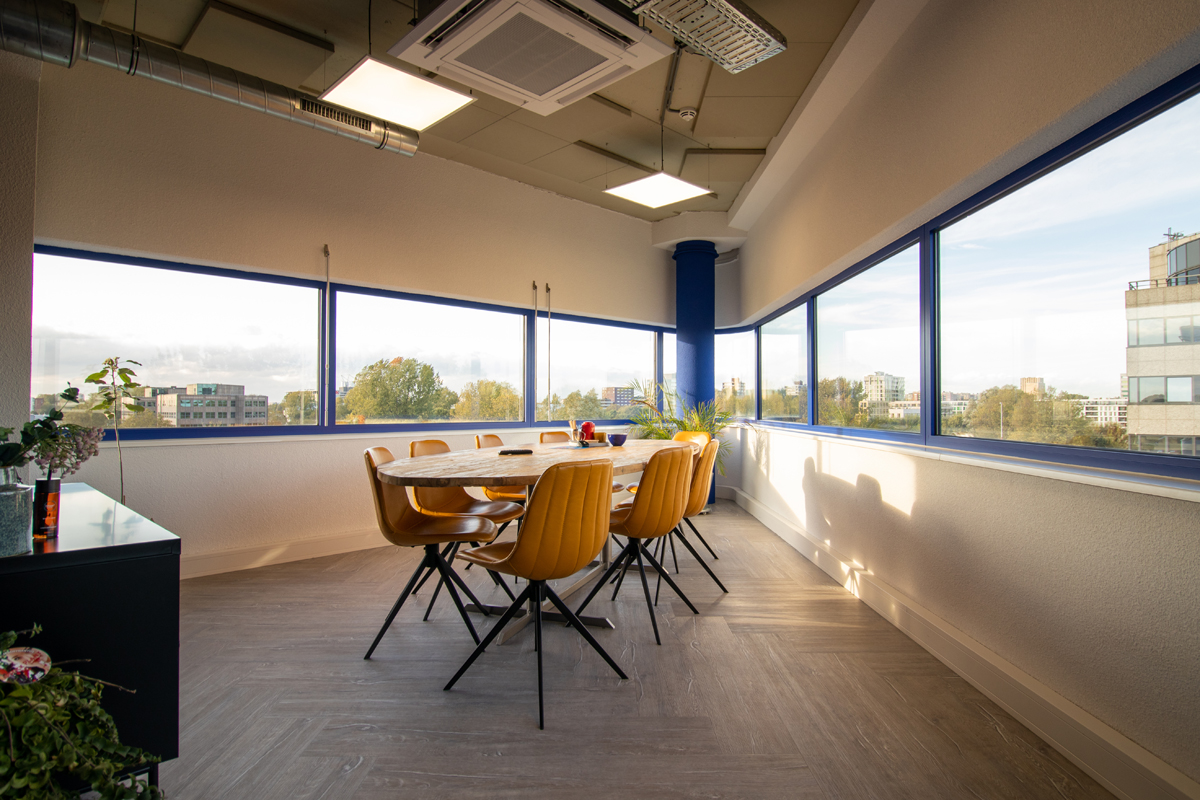 Click to view the virtual tour
Reviews about this office space
What do our customers say about Overschiestraat 63
20 January 2021
Degelijke kantoorruimte, niet erg verrassend, biedt qua indeling voldoende mogelijkheden. entree enigszins verouderd.
24 September 2020
Mooie locatie met zeer veel mogelijkheden aanwezig en te bespreken. Het pand ligt vlak bij de snelweg waardoor de bereikbaarheid ook optimaal is. Veel mooie ruimtes en de verhuurders denken graag mee in oplossingen.
01 July 2020
Fijne werkplek met gedeelde faciliteiten. Netjes onderhouden en functioneel.
Gunstige ligging tov Schiphol, A10 en openbaar vervoer. Top locatie!
11 August 2019
Would be very well suited to our needs.
06 December 2018
Ziet er allemaal netjes en verzorgd uit. Algemene ruimtes op begane grond zien er gezellig uit.
29 October 2018
Goed bereikbaar kantoor, voorzien van alle faciliteiten. Mooie algemene ruimtes en fijne medehuurders.
27 October 2018
Hele fijne ruimte, makkelijk te bereiken via de ring, OV en per fiets. Het kantoor is erg licht en de faciliteiten zijn allemaal nieuw. Als er wat kapot is wordt het super snel gemaakt en de collega's van andere bedrijven zijn erg vriendelijk. Voor zowel kleine als al wat grotere bedrijven kan ik deze werkplek van harte aanbevelen!
27 October 2018
Fijn kantoor. Staan/zit bureau's, klimaatsysteem en bij de meeste ruimtes ook een mooi uitzicht.
Beneden staat er een pooltafel en kan je gezellig lunchen of met klanten zitten.
26 October 2018
Faciliteiten in en rond het kantoor zijn goed geregeld. Bureau's (hoogte verstelbaar tot staanbureaus), Internet en klimaatsystemen werken perfect. Beneden genoeg bespreekkamers en hokjes om te zitten. De pooltafel is ook een fijne toevoeging.
26 October 2018
Zeer comfortabel kantoor. Veel algemene ruimtes en gezellige ruimte beneden met pooltafel en WMF bonenmachine. Verder ook goed contact met de eigenaar en beheerder.
01 October 2018
Goed eerste contact en meteen bezichtiging gepland. Flexibiliteit qua huurtermijnen maakt het interessant!
17 September 2018
Mooi pand met veel potentieel! Goede faciliteiten, goed bereikbaar en hoog afwerkingsniveau
Add new comment