This office has several meeting rooms which you can use as a tenant.
This office is 24/7 accessible
This office has high-speed fiber optic internet. 
In this office it is possible to scale up and down. This means that you can purchase more office space as you grow. It is often possible to scale up and down per month.
Address
Wibautstraat 135
1097 DN Amsterdam
This location offers managed office spaces. The services provided by managed office locations varies per location. These are often unfurnished private office spaces. For more information about the managed office options within this location, please feel free to contact us.
This location provides office space with a fully functioning infrastructure, including I.T. and telephone services, furniture, utilities, etc. You are therefore able to move in immediately. You pay per person / desk on a monthly basis including costs such as heating, electricity, insurance etc. You can rent space for any period from one month to several years. Additional services such as meeting room rental, secretarial services, photocopying and I.T. assistance are usually available at extra cost. In addition to a fixed-term contract, you can also rent on a monthly basis and leave without notice or fine.
Services
What kind of services can I expect from this office?
Parking
Where to leave your car?
On private property or garage
Facilities
What makes this office space so special?
Accessibility
How to get to this office space.
Subway Amsterdam Amstel [ 8 mins walk ]
Train Amsterdam Amstel [ 8 mins walk ]
Look around the office.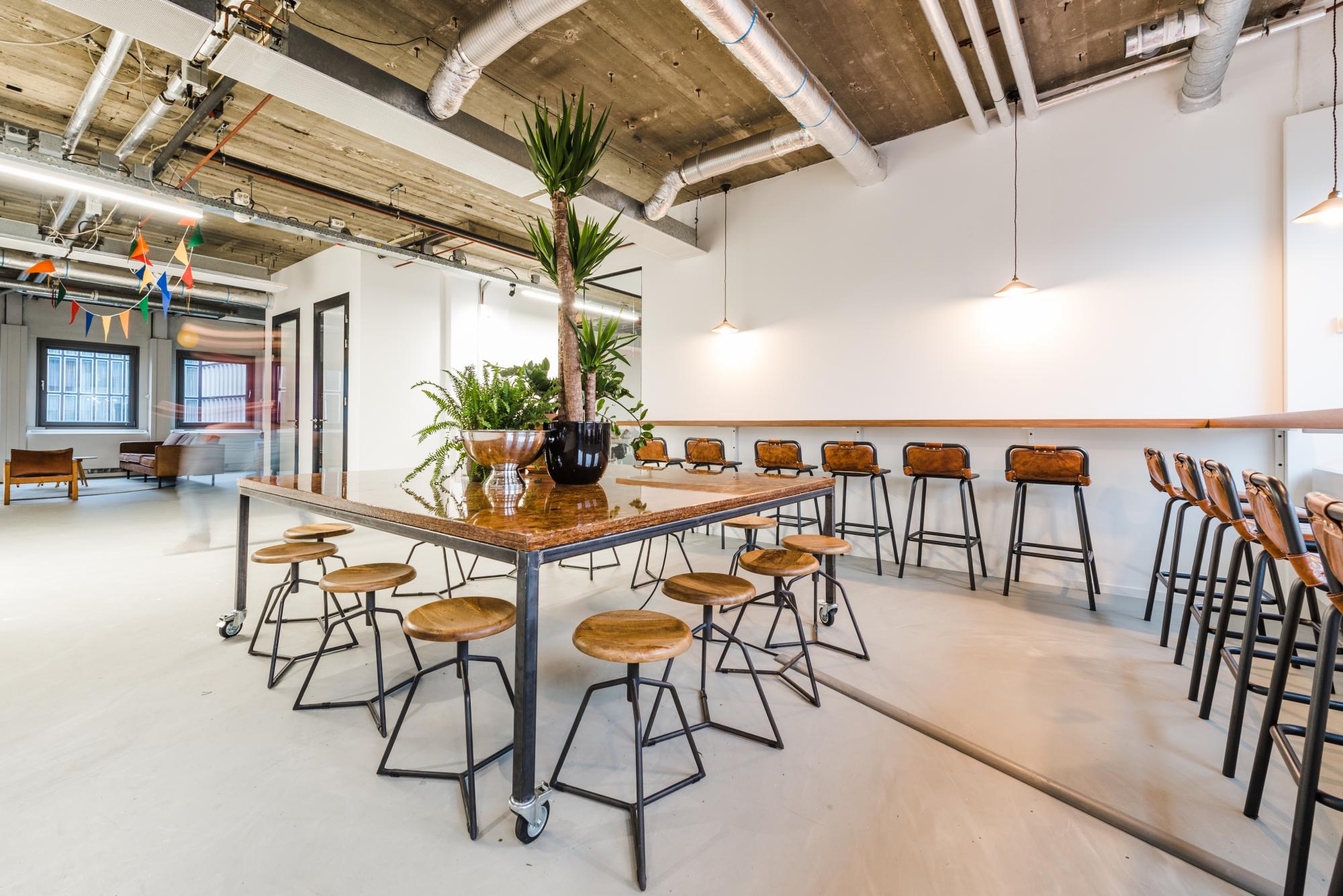 Click to view the virtual tour
Reviews about this office space
What do our customers say about Wibautstraat 135
20 May 2021
Overall a really great option for companies looking for the benefits of a serviced coworking space. Plenty of options in terms of floor plans. The amenities clearly contribute to the costs as the fees and may be best suitable for smaller teams and teams that don't need much flexibility in terms of modifying the space. Good location in Oost with plenty of transport options right out the door.
18 April 2019
Wij zitten nu alweer een jaartje aan de Wibautstraat 135-139 en zijn zeer tevreden over de faciliteiten!
17 April 2019
Super goed concept! We zitten hier al geruime tijd en ik krijg vaak spontaan van klanten/bezoek de feedback dat ze de sfeer en uitstraling zo cool vinden.
17 April 2019
Ik ben enthousiast. Voor mij de ideale mix in ontzorgt worden in de belangrijkste zaken zoals goede housing, vergaderplekken, belhokken én lekkere koffie!...maar ook een huiselijke omgeving qua meubilair en lunchen in de algemene ruimten waar je ook andere bedrijven ontmoet. Ze zijn flink aan het groeien...maar toch zijn de lijntjes kort. Top!
16 April 2019
Goede sfeer en service :-)!
16 April 2019
Heerlijke ruimtes, netjes en goede faciliteiten. Prima plek.
14 September 2018
Super leuke relaxte mooie locatie!
18 May 2018
We waren te vroeg en werden toch opgevangen dus dat was goed. Verder was het wat rommelig (kruimels op de tafel, troep etc.).
08 December 2016
Prima netjes en modern. Huurprijs aan de hoge kant
30 November 2016
Top geregeld, contract is binnen!
28 November 2016
Aardige ontvangst, kon ook niet zoveel mis mee. Lekker dat het gloednieuw is en dat ze glasvezel hebben. Vindt het huurbedrag ook hier aan de pittige kant. Wel prettig, net als bij de andere locaties dik ik bezichtigde is het feit dat je per maand kunt opzeggen.
24 October 2016
Deze locatie is perfect te bereiken, zowel met auto als met het OV. Het kantoor wordt momenteel volledig gerenoveerd en het krijgt een mooie industriele stijl. Het is zeker een optie voor ons team, het ziet er naar uit dat dit een goede werkplek gaat worden, met een moderne uitstraling en goede sfeer.
Add new comment