What will the future of La Défense be after Covid-19?
The lockdown and health measures accompanying the Covid-19 pandemic impacted the 180,000-employee La Défense business district overnight. That was in March 2020. Since then, La Défense has continued to transform under the impact of the health crisis, with countless implications for the way work is done in companies.  
Only 23% of companies had employees working from home regularly before the pandemic. This figure increased following the lockdown with over 68% committing to working from home a couple of days a week.  
The pandemic has also deeply changed the way the office is used, how it functions and how people work. The office and its use are being rethought in depth. And no one escapes it, not even La Défense. But how will this affect business centres like La Défense in the future? And how will it affect its appeal to employers and employees? The major changes brought about by the Covid-19 pandemic are discussed in this article. 
What is La Défense?   
La Défense is a business district located in the Greater Paris metropolis in the Île-de-France region. It is Europe's largest business district in terms of office space and, after the City of London, the second-largest in terms of financial activity. Many French and multinational enterprises, as well as the European Banking Authority, have their headquarters in La Défense.  
It is situated in the Hauts-de-Seine department, on the municipalities of Puteaux, Courbevoie, Nanterre, and La Garenne-Colombes, at the western end of the axis that runs from the Palais du Louvre to the Avenue des Champs-Élysées, the Arc de Triomphe de L'Étoile, and beyond to the Arche of la Défense. Built since the 1960s, La Défense is mostly made up of high-rise buildings, mainly for offices with approximately three million square meters of office space. According to research conducted by the firm EY in 2017, it is the world's fourth most attractive business district. 
Image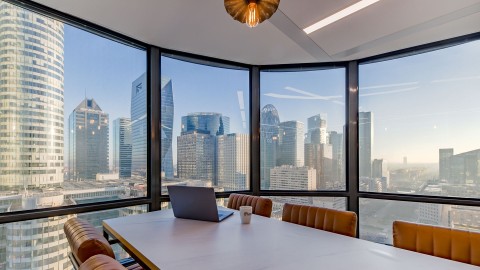 How has Covid-19 impacted La Défense?   
Due to the Covid-19 pandemic, companies in La Défense saw a drop of about 40% in office traffic in 2020. With working from home, offices were increasingly empty, with the computer and webcam taking over.  
Last October, 42% of employees said they teleworked at least once a week and 22% more occasionally, while only 36% did not. Since the fall of 2021, there has been a marked increase in traffic at La Défense. Before the summer, occupancy was about 60% of pre-pandemic levels.  
Today, it is over 75%. With the gradual lifting of health measures, employees have returned to work and companies are increasing their capacity again. This evolution has been accompanied by an increase in hybrid work, as the combination of face-to-face and remote work is now a daily reality for 38% of employees. 
Since February 2nd, telework is no longer mandatory but recommended, with employers setting the conditions for the use of telework within their own organization. With this, the increase in traffic in the business district observed in recent months can only increase. With the phasing out of COVID-19 and national restrictions, Flexas.com is seeing a 300% spike in demand for new office space throughout the continental European region, including business districts such as La Défense. 
This shows that despite the radical changes that La Défense has undergone, it remains an attractive place to work.  In fact, according to the latest Paris La Défense barometer, the business district is a pleasant working environment for 94% of employees. 
Image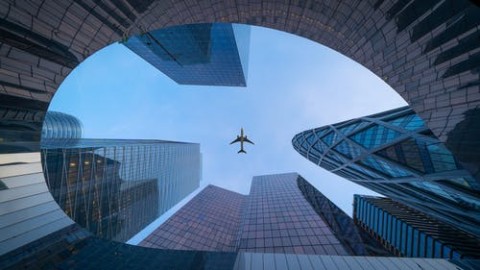 What will the future of La Défense be after Covid-19?
Even while the traditional office model still predominates, the flex office has emerged. It allows businesses to use idle space, and this important solution grows in popularity. There is no longer a single work model, but rather an endless number of models that adapt to the needs of each organization and person. There are a variety of locations available, ranging from coworking spaces to open space. Furthermore, the epidemic has raised health issues at work. Thus, buildings equipped with tools that improve the health and well-being of their occupants can display certifications such as the "Well" badge focused on user well-being.  
Green spaces  
The need for green spaces is growing and citizens show an increasing need for nature. The city must be greened as much as possible. Today, most construction projects take biodiversity into account. This is the case of The Link tower, which includes 3,000 square meters of gardens on every floor of its 130,000 square meter office space.
Image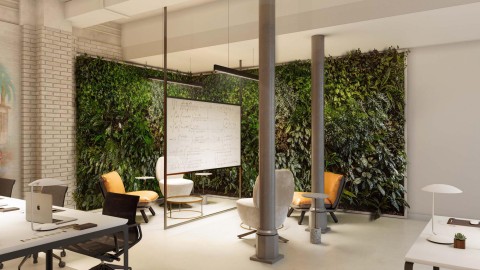 Flexible work schedules    
Finally, a break with the traditional organization of work in fixed offices is also envisaged. For example, working from home has become commonplace and is surely the most important habit change that Covid-19 has brought about. But although the Covid-19 pandemic has pushed the trend for remote working, it has also shown its limits. Some practical issues of working from home include lack of equipment such as technological devices, ergonomic desks, and chairs or poor internet connection. On top of this, the office space remains crucial for its social value. Indeed, a company's success still largely depends on face-to-face communication and cooperation. People's ability to create and generate innovative ideas is heavily influenced by spontaneous cooperation, which occurs most of the time at the workplace.  
The aim is thus to find a compromise between work from home and on-site work, which is now referred to as hybrid work. The trend is towards a continuation of teleworking, coupled with the development of less dense offices and greener real estate. The growth of coworking spaces, reducing employee travel time and maintaining teleworking, also seems to be an encouraging alternative to alleviate the inconvenience of home-work mobility. 
The workspaces imagined until the mid-2000s will have to change. In the future, the office will have to be more welcoming to offer employees a friendly atmosphere where it is good to work. This will therefore require new layouts. This will mean more convivial spaces, additional services, brainstorming areas, etc. For la Défense, this means that the transformations it has undergone will only continue in order to satisfy the new ways of working and employees' new needs and expectations. 
Image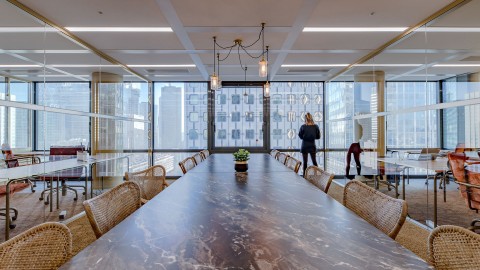 The office at La Défense is not dead 
As Michaël Xavier HENRY, Director of Parisian Operations at Flexas.com, says: "Once deserted, La Défense now offers many opportunities thanks to its competitive pricing. We are seeing an increase in the number of flexible solutions with great projects such as Welkin & Meraki, Now Connected and Deskéo." 
Over the years, La Défense has become a symbol of the French business world. It has become almost unimaginable that it could disappear. All the more so since the district is constantly developing and renewing itself with new initiatives such as the construction of four new skyscrapers that give La Défense a new image. The development of a vast esplanade the size of the Champs Elysées is the next project. Numerous coworking spaces will be positioned around the Esplanade. 
So, although La Défense is changing significantly, with more remote work and workplaces that are used in a variety of ways, the large skyscrapers of Paris' west end are not set to disappear just yet. Discover the offices offered by Flexas.com in La Défense by clicking here!
Sources: 
BFM BUSINESS - La Défense près de Paris en passe de devenir un quartier fantôme - November 2020.
Defense-92 - Chahuté par le Covid, La Défense continue de séduire ses salariés - January 2022
EY - Baromètre EY-ULI d'attractivité des quartiers d'affaires mondiaux - May 2020.
Paris La Défense - The Link: construction du futur siège social de Total.
BFM BUSINESS - le télétravail est devenue une pratique régulière pour 22% des salariés - March 2022.
Challenges -Télétravail et présentiel, le travail hybride devient la norme - February 2022.
WELL - Welcome to WELL.