This office has several meeting rooms which you can use as a tenant.
This office is 24/7 accessible
This office has high-speed fiber optic internet. 
In this office it is possible to scale up and down. This means that you can purchase more office space as you grow. It is often possible to scale up and down per month.
About this office on Asterweg 19
Office space available in Amsterdam Noord. The office is located in the renovated Noordelijke IJ-Oevers, near the Shell Technology Center, the Eye Film Institute and Overhoeks. Through large-scale restructuring of the industrial area, the surroundings create a lively and dynamic atmosphere. Various office spaces of various sizes are available. Office spaces are already available from 39m². 
Address
Asterweg 19
1031HL Amsterdam
Empty space | Conventional
This location offers conventional options. This means the renting of office space directly from the landlord of the building. Internally, the space can be used according to your own wishes (possibly with permission of the landlord). You will need to manage and maintain all facilities, e.g. arranging space planning and furnishing, I.T. and telephone systems, furniture, cleaning, energy bills and service costs. Conventional office space is rented for a price per square meter per year.
This location offers managed office spaces. The services provided by managed office locations varies per location. These are often unfurnished private office spaces. For more information about the managed office options within this location, please feel free to contact us.
Services
What kind of services can I expect from this office?
Parking
Where to leave your car?
On private property or garage
Facilities
What makes this office space so special?
Accessibility
How to get to this office space.
Subway Amsterdam Centraal [ 20 mins walk ]
Train Amsterdam Centraal [ 20 mins walk ]
Bus Amsterdam Centraal [ 20 mins walk ]
The Neighbourhood of Asterweg 19
All in's and out's about the area.
This office space in Amsterdam is located on the Buiksloterham business park. This area has a lively and dynamic business climate. Thanks to the large-scale restructuring of the site and the arrival of the North/South Line, there has been a sharp increase in the number of businesses establishing themselves here. As a result, the facilities in the surrounding area have also increased significantly. Various restaurants and shops can be found in the surrounding area.
The accessibility of this office is very good, both by private and public transport. You can reach the complex by car via the A10 ring road and the IJ tunnel. Parking is available on site, next to and under the building. About 10 minutes walking distance and you will find the Buikslotermeerpont which takes you to Amsterdam Central Station.
Look around the office.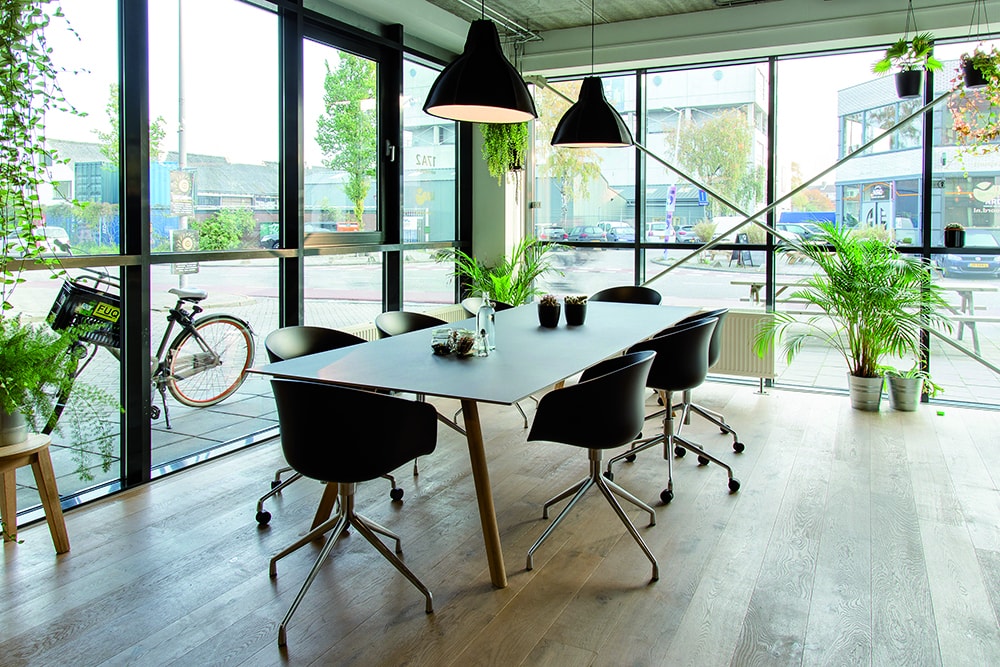 Click to view the virtual tour
Reviews about this office space
What do our customers say about Asterweg 19
12 January 2021
Bijzonder hartelijk ontvangen door Jackie. Keurige kantoren, functioneel ingericht, gratis parkeren. Value for money.
10 December 2018
Leuke ruimte, maar te klein voor ons. De ruimtes van 148m2 waren helaas niet beschikbaar.
23 November 2018
Fijne sfeer, gunstige ligging, gratis parkeren, goede communicatie tussen de beheerder en ons bedrijf
22 May 2018
De bezichtiging viel tegen. We kregen de indruk dat het niet zo interessant was of we nu gingen huren of niet. Bovendien zag de te verhuren ruimte er onverzorgd uit.
Het was goed om vergelijkingsmateriaal te hebben.
17 April 2018
Mooie locatie maar niet helemaal wat we zochten.
22 March 2017
Kind people and very fast replies
14 March 2017
Deze ruimte was precies zoals ik mij de perfecte werkruimte had voorgesteld! Dankzij de enorme handige service van Flexas.nl heb ik naar alle waarschijnlijkheid binnen een maand een geschikte werkruimte voor mijn werkgevers gevonden en dat in Amsterdam!
Ik zou Flexas aan iedereen adviseren!
23 February 2017
Wat betreft sfeer niet wat wij zoeken, voldoet verder wel aan onze uitvraag (budget en oppervlakte).
28 November 2016
Mooie ruimtes maar lokatie niet geschikt voor ons
27 November 2016
Mooie ruimtes maar locatie niet geschikt
13 October 2016
Kwam helaas mijn zoekcriteria niet na! Hij Was een ruimte van 70 en ik zocht tussen 16-20..
06 July 2016
Goede bezichtiging gehad en goed ontvangen. Is een prima locatie.
03 January 2016
Grote pluspunten zoals gratis parkeren en mooie vergaderruimte.
Add new comment