This office has a customer-friendly reception that welcomes your customers well and gives them a cup of coffee in advance.
This office has several meeting rooms which you can use as a tenant.
This office is 24/7 accessible
This office has high-speed fiber optic internet. 
About this office on Muiderstraat 1
This office building offers the best in luxury office spaces in the centre of Amsterdam. The building includes turnkey spaces of different sizes. They are fully furnished and equipped with all facilities one would expect from a high-end office building in the 21st century. The top-class services offered include a warm welcome for tenants and guests by experienced and internationally oriented receptionists. They also handle the mail and can act as a call centre.
The office premises are monitored 24 hours a day and are equipped with a security system of the highest security level. At the Baxter Building you can use a beautifully appointed lobby where a daily fresh lunch is provided. It is also possible to book one of the five high-end boardrooms that are equipped with the latest media, presentation and conference facilities. Coffee, tea and soft drinks are served in the boardrooms and on your request a lunch or dinner as well.
Address
Muiderstraat 1
1011 PZ Amsterdam
This location offers managed office spaces. The services provided by managed office locations varies per location. These are often unfurnished private office spaces. For more information about the managed office options within this location, please feel free to contact us.
This location provides office space with a fully functioning infrastructure, including I.T. and telephone services, furniture, utilities, etc. You are therefore able to move in immediately. You pay per person / desk on a monthly basis including costs such as heating, electricity, insurance etc. You can rent space for any period from one month to several years. Additional services such as meeting room rental, secretarial services, photocopying and I.T. assistance are usually available at extra cost. In addition to a fixed-term contract, you can also rent on a monthly basis and leave without notice or fine.
Services
What kind of services can I expect from this office?
Parking
Where to leave your car?
On private property or garage
Facilities
What makes this office space so special?
Accessibility
How to get to this office space.
Subway Amsterdam Centraal [ 23 mins walk ]
Train Amsterdam Centraal [ 23 mins walk ]
Bus Amsterdam Centraal [ 23 mins walk ]
The Neighbourhood of Muiderstraat 1
All in's and out's about the area.
The beautiful interior was designed by the many awards winning design company Tank and gives the building a high-class, modern appearance that adds to the overall feeling of quality. The Pinnacle tower is situated in the center of Amsterdam. It is surrounded by famous attractions such as the Rembrandt House, Waterlooplein, the Flower Market, Artis Zoo, the City Hall and the Hermitage. The famous canals and the Amstel river are just around the corner. There are many restaurants, cafés, bars and shops at just a few minutes' walk from the office. The Hortus Botanicus with the botanical gardens is located opposite the office and offers one of the best lunch spots in the city. Many tenants appreciate the perfect combination of excellent facilities and the charm of the old city at only a 15 minutes' drive to Schiphol airport. In addition the Pinnacle Tower is well served by public transport. Cars can be parked in the adjacent secure covered parking.
Look around the office.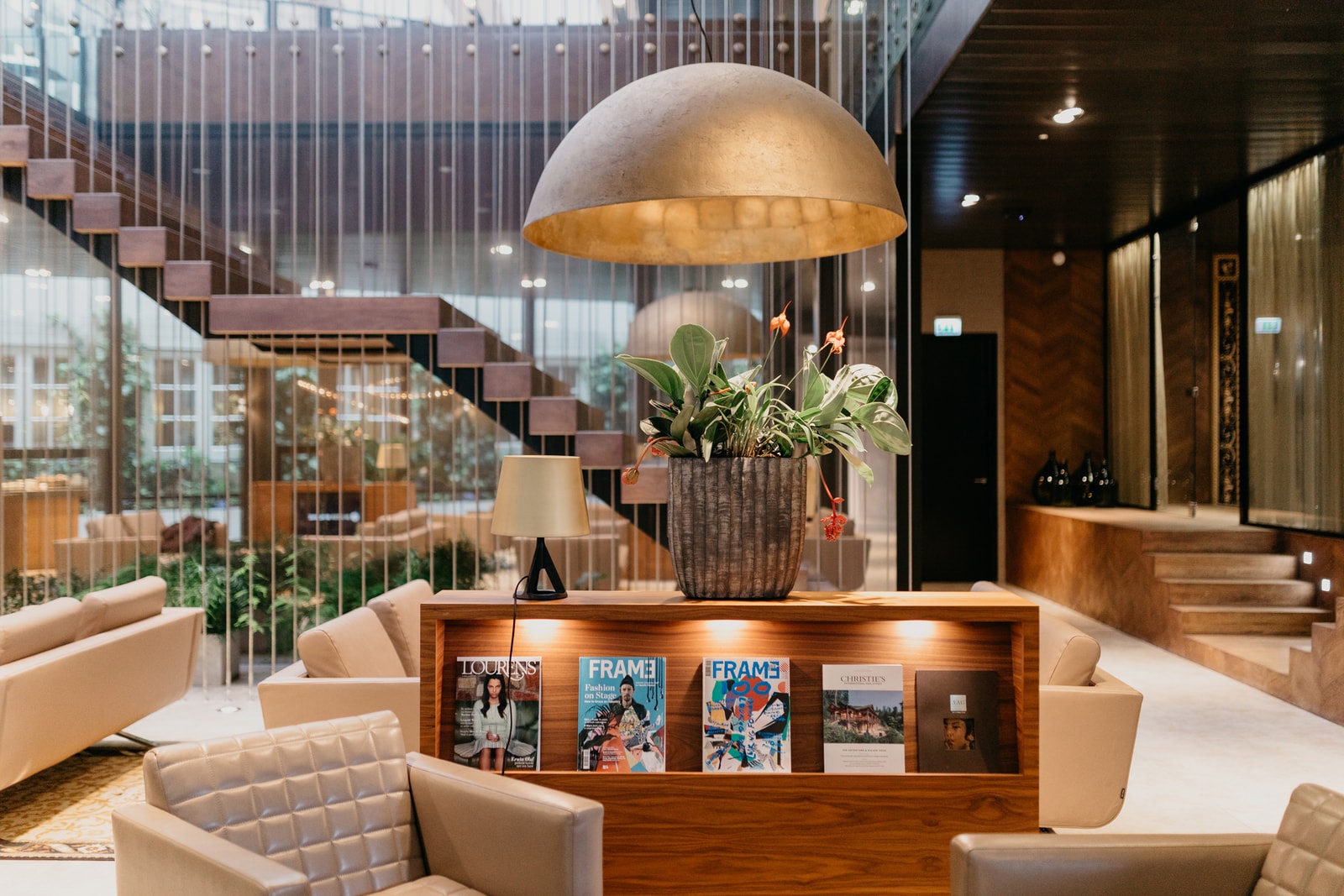 Click to view the virtual tour
Reviews about this office space
What do our customers say about Muiderstraat 1
13 January 2021
Erg fijne ruimte om te werken. De algemene ruimte en vergaderruimtes zijn erg representatief. Verder zijn de hosts erg vriendelijk, servicegericht en is alles mogelijk.
12 January 2021
Great office, nice ambience, perfect looks inside, offices are nice, very helpfull and friendly staff.
12 January 2021
Amazing design, perfect service and an oasis of peace in the city center of Amsterdam.
12 January 2021
The office is beautiful and comfortable, owners/hosts are very professional and friendly - would highly recommend
24 November 2020
heel mooi, voelt als een warme deken.....professioneel neer gezet, hele aardige en competente hosts.
27 January 2020
Beautiful space, excellent and professional service!
27 January 2020
We have an office here and I really like to come here, because it is always a nice sphere: cosy, classy and personal. The staff is very professional and enthusiastic.
24 January 2020
Great business centre, beautiful interior, lovely staff. It feels like they are part of our own team, they go the extra mile to meet our needs and requests.
24 January 2020
Geweldig mooi interieur in een ruimtelijk opgezet gebouw. De office managers zijn erg behulpzaam en flexibel en de service in het algemeen is van hoge kwaliteit. De locatie is ook erg goed bereikbaar ondanks dat het in het centrum is.
17 January 2019
Beautiful interior, great service and very friendly staff.
17 January 2019
A truly top class business centre. Great service, beautiful location and facilities. I really like how personal the service is. Great lunch offering too!
27 October 2018
Hele bijzondere sfeer. Zeer professioneel. Perfecte service. Is anders dan anders omdat het erg luxueus maar toch heel aantrekkelijk geprijsd is. Heel blij met kantoor hier.
Add new comment