This office has high-speed fiber optic internet. 
In this office it is possible to scale up and down. This means that you can purchase more office space as you grow. It is often possible to scale up and down per month.
This office has a customer-friendly reception that welcomes your customers well and gives them a cup of coffee in advance.
This office has several meeting rooms which you can use as a tenant.
This office is 24/7 accessible
About this office on Kingsfordweg 151
These offices available for rent at the Teleport Towers are particularly representative and fully equipped. The offices offer full service facilities and are for work and receiving customers. The building is located in the center of Amsterdam Teleport behind Sloterdijk station. This building is one of the most distinctive and eye-catching buildings of Amsterdam, designed by architects Alberts & Van Huut. The office has a modern, open and playful design. The facilities meet all the requirements of a modern office. The area was initially developed for telecom companies and therefore has very fast internet and telephone connections.
Address
Kingsfordweg 151
1043 GR Amsterdam
This location provides office space with a fully functioning infrastructure, including I.T. and telephone services, furniture, utilities, etc. You are therefore able to move in immediately. You pay per person / desk on a monthly basis including costs such as heating, electricity, insurance etc. You can rent space for any period from one month to several years. Additional services such as meeting room rental, secretarial services, photocopying and I.T. assistance are usually available at extra cost. In addition to a fixed-term contract, you can also rent on a monthly basis and leave without notice or fine.
Services
What kind of services can I expect from this office?
Parking
Where to leave your car?
On private property or garage
Facilities
What makes this office space so special?
Accessibility
How to get to this office space.
Train Amsterdam Sloterdijk [ 7 mins walk ]
The Neighbourhood of Kingsfordweg 151
All in's and out's about the area.
Near the property several renowned companies and organizations are located such as Warner Bros., The Telegraph, and Deloitte. The center of Amsterdam is easily reached with the various direct tram, train and bus links from Sloterdijk station.
The accessibility is excellent. The NS Amsterdam Sloterdijk station is situated within walking distance, this station provides direct connections to Amsterdam Central, Haarlem, Leiden and Schiphol. Furthermore there is an extensive network of bus, metro and tram lines in the vicinity of the building.
Look around the office.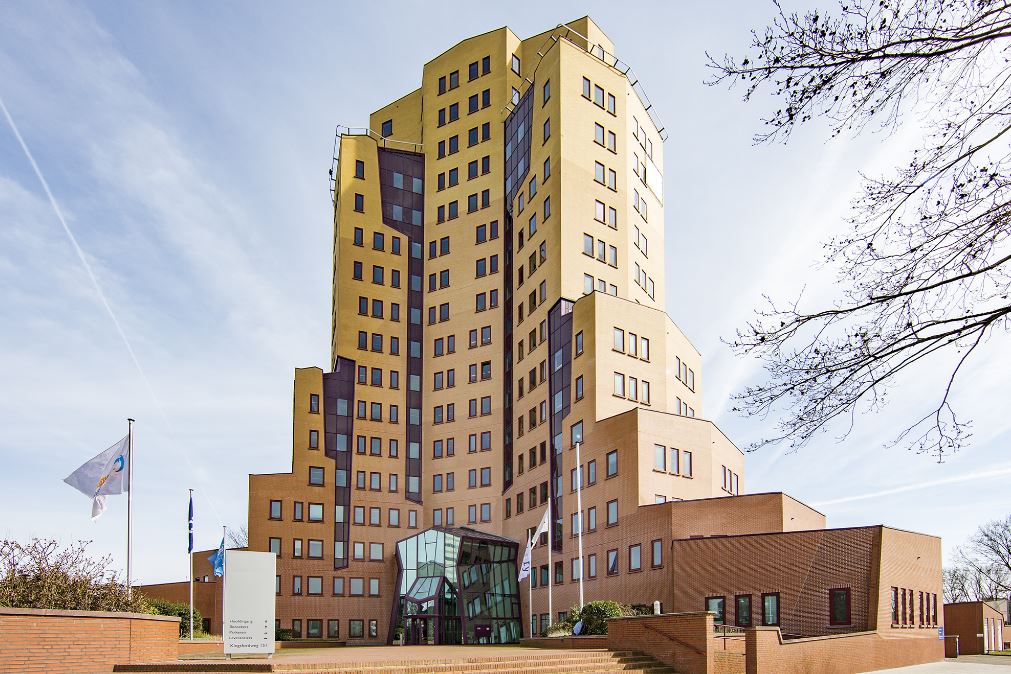 Click to view the virtual tour
Reviews about this office space
What do our customers say about Kingsfordweg 151
19 August 2019
helder gesprek, verzorgde locatie
11 January 2018
Bedankt voor de rondleiding!
Het gebouw ziet er erg mooi uit van buiten alleen de kamers wat klein voor het geld en mist sfeer.
We gaan de optie nog in overweging nemen.
Nogmaals dank,
Mvg Ronald
15 November 2017
Goed kunnen bekijken wat het aanbod is. Er werd prettig meegedacht over wat de mogelijkheden zijn.
18 January 2017
Wij hebben voor deze ruimte gekozen. Overzichtelijke site, vriendelijke man (Kaj Jansen), die ons goed heeft geholpen met het zoeken van een beschikbare ruimte. Wij zijn Kaj en de rest van het team van Flexas dankbaar!
17 January 2017
We hebben een prettig ontvangst gehad en waren we zeer verrast over hun mogelijkheden en de ruimtes die zij te bieden hebben.
Een fijne bezichtiging.
25 April 2016
We nemen deze locatie in overweging. Er wordt goed geluisterd naar onze wensen en er is een grote mate van flexibiliteit in het aanbod, voor ons is dat fijn omdat we kunnen doorgroeien binnen het pand.
Add new comment