This office has high-speed fiber optic internet. 
This office has several meeting rooms which you can use as a tenant.
This office is 24/7 accessible
About this office on Overschiestraat 186
These offices cannot be missed fromthe adjacent A10 ringroad. The Spring and Autumn buildings stand out with their striking constructions and stone-clad facades. The representative buildings are located at the junction of the A10 with the Henk Sneevlietweg and are finished just as nicely on the inside as they are on the inside. Both offices have a large welcoming entrance.  Companies such as Sony Pictures, Adecco and Accenture are located here. Two office units are available in the Autumn building, both offering approx. 300 m2 of space.
Address
Overschiestraat 186
1062 XK Amsterdam
Empty space | Conventional
This location offers conventional options. This means the renting of office space directly from the landlord of the building. Internally, the space can be used according to your own wishes (possibly with permission of the landlord). You will need to manage and maintain all facilities, e.g. arranging space planning and furnishing, I.T. and telephone systems, furniture, cleaning, energy bills and service costs. Conventional office space is rented for a price per square meter per year.
This location offers managed office spaces. The services provided by managed office locations varies per location. These are often unfurnished private office spaces. For more information about the managed office options within this location, please feel free to contact us.
This location provides office space with a fully functioning infrastructure, including I.T. and telephone services, furniture, utilities, etc. You are therefore able to move in immediately. You pay per person / desk on a monthly basis including costs such as heating, electricity, insurance etc. You can rent space for any period from one month to several years. Additional services such as meeting room rental, secretarial services, photocopying and I.T. assistance are usually available at extra cost. In addition to a fixed-term contract, you can also rent on a monthly basis and leave without notice or fine.
Services
What kind of services can I expect from this office?
Parking
Where to leave your car?
On private property or garage
Facilities
What makes this office space so special?
Accessibility
How to get to this office space.
Train Amsterdam Zuid [ 45 mins walk ]
The Neighbourhood of Overschiestraat 186
All in's and out's about the area.
The office space is located just outside the Amsterdam ring road and in the area are a number of lunch rooms and cafes. You can reach the center of Amsterdam from the office in a 5 to 10 minute long ride by car.
The Spring and Autumn offices are situated just 120 meters from the exit S110 on the A10. Schiphol Airport is a fifteen minute drive away. The premises have an excellent parking norm. It takes only a five minute walk to the Henk Sneevlietweg underground station, where line 50 stops. This light train takes you to the WTC, RAI, Duivendrecht and Bijlmer areas. It takes about 15 minutes to get to the Amsterdam Sloterdijk railway station.  The Amsterdam Central station is eight minutes away.
Look around the office.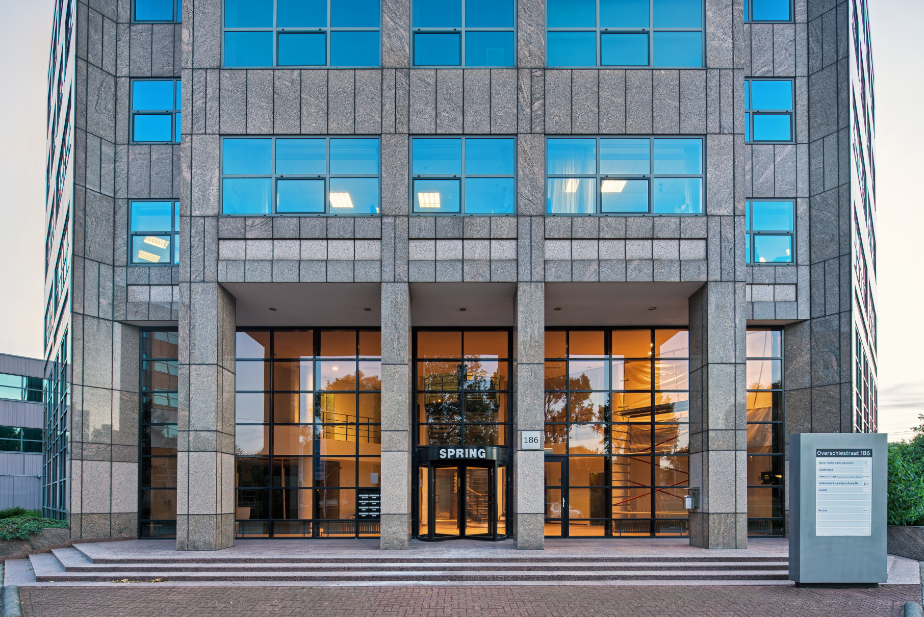 Click to view the virtual tour
Reviews about this office space
What do our customers say about Overschiestraat 186
20 May 2019
Good price/quality lication nearby the public transport.
Add new comment