Main coworking statistics you need to know in 2022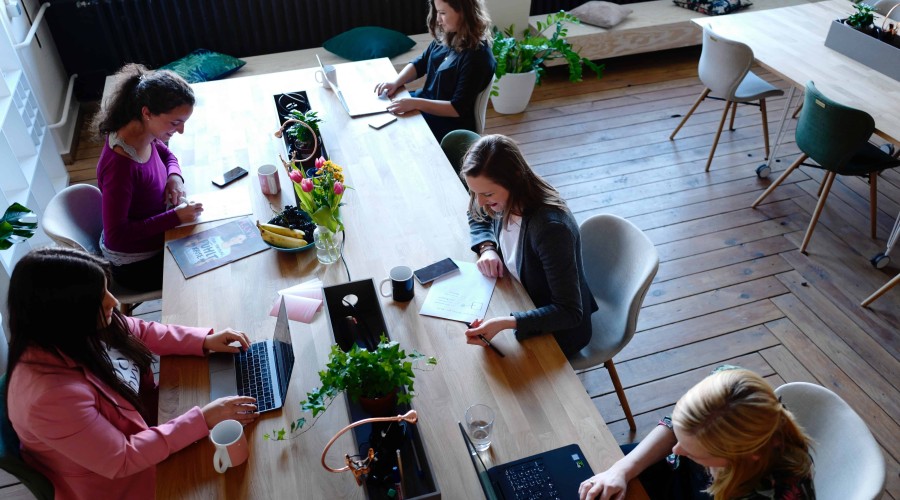 What is coworking space? In exchange for using a shared workplace, you can pay a monthly fee to utilize a coworking space, which is a shared professional-style workstation. Coworking spaces frequently promote community, host networking events, and provide perfect solutions for small businesses, start-ups, or remote employees like freelancers. 
Are you seeking for the most recent coworking spaces statistics? We've gathered 20 of the most eye-opening coworking stats in 2022 to help you fully comprehend the situation of coworking spaces and their position in the world nowadays. 
How many coworking spaces are there in the world 2022? 
Around the world, there are over 18,700 coworking spaces. In London alone there are over 1,400 coworking spaces!
Source: Statista 
By the end of 2024, coworking spaces are anticipated to number 41,975. That is an annual growth rate of about 21.3%.
Source: Statista, Coworking Insights 
With an estimated 148 coworking operators, Europe has roughly 6,850 coworking spaces. The expected yearly growth rate for coworking spaces in Europe is 4.7%. 
Source: Statista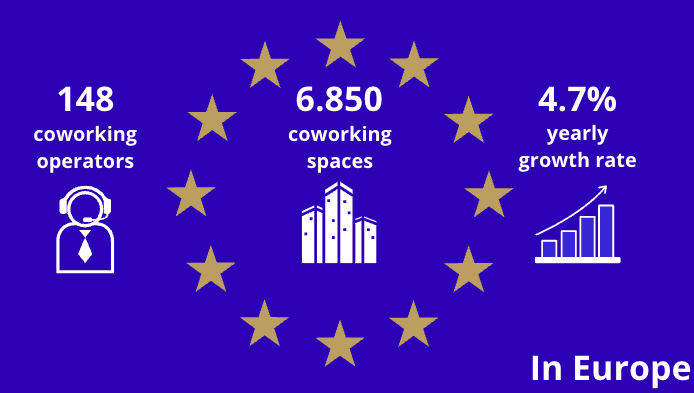 According to the prediction and study for 2021–2025, the market for coworking spaces would increase by $13.35 billion, or 11% annually. 
Source: GlobeNewswire 
Globally, 30% of coworking businesses reported profits, 41% reported losses, and 29% reported neither profits nor losses. 
Source: DeskMag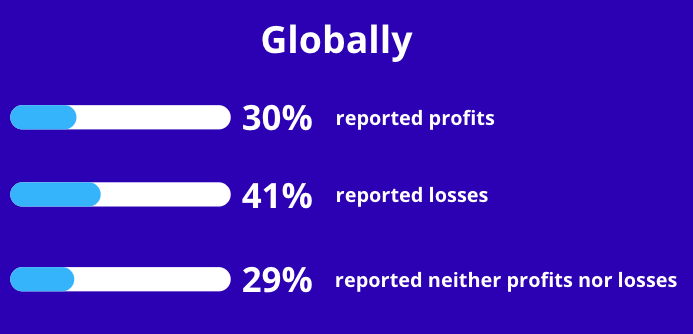 Read More: 9 insights to pros and cons of coworking spaces. Are they worth it?
Is there a COVID-19 impact on coworkings? 
The pandemic forced the closure of 21.76% of spaces. 
Source: Shortlister 
Since the start of the pandemic, 71.67% of locations reported a considerable drop in the number of individuals using their coworking space for work. 
Source: Shortlister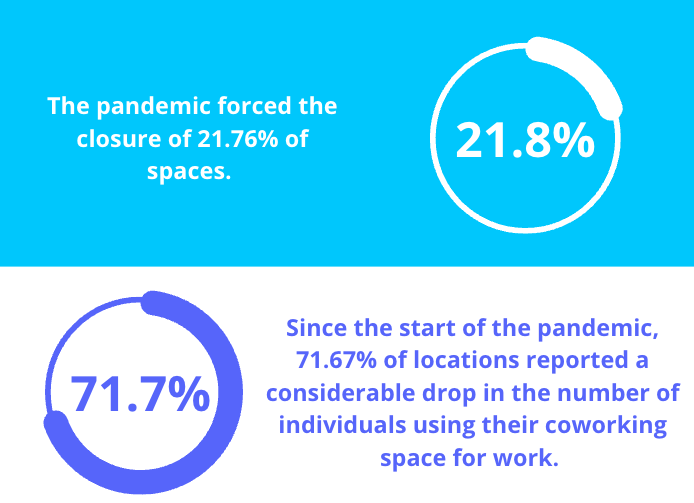 How many people use co working spaces? 
Coworking spaces are used by more than two million individuals worldwide. 
Source: Shortlister 
By 2024, it is anticipated that five million individuals would be using coworking spaces, according to coworking data. 
Source: Shortlister 
In the past five years, there has been a 44% increase in the number of persons working remotely. 
Source: Apnews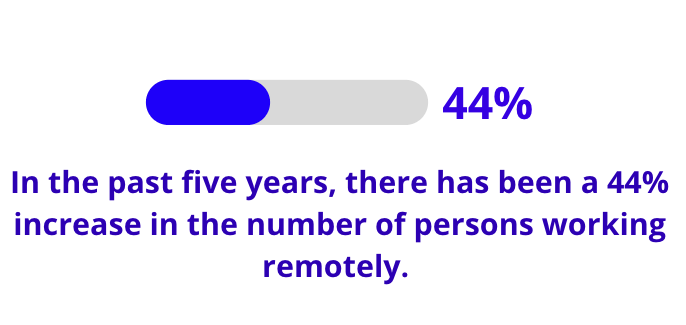 Why is coworking so popular? 
89% of participants reported feeling better after joining a coworking space. 
Source: TeamStage 
Isolation and loneliness are among the major obstacles of working remotely, according to 47% of remote employees globally.  
Source: Zippia 
69% of coworking space users claimed to have picked up new skills there. 
Source: Zippia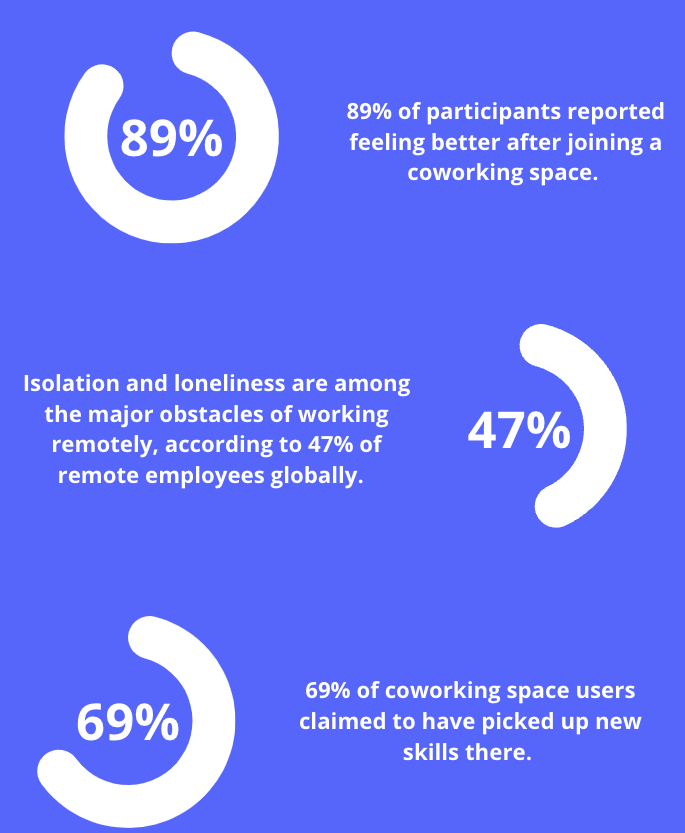 Read More: The office space inspired by coworking space
Who uses coworking spaces the most? 
Freelancers make about 42% of coworking space members worldwide. 
Source: Zippia 
The IT industry employs 20% of those working in coworking spaces.  
Source: Zippia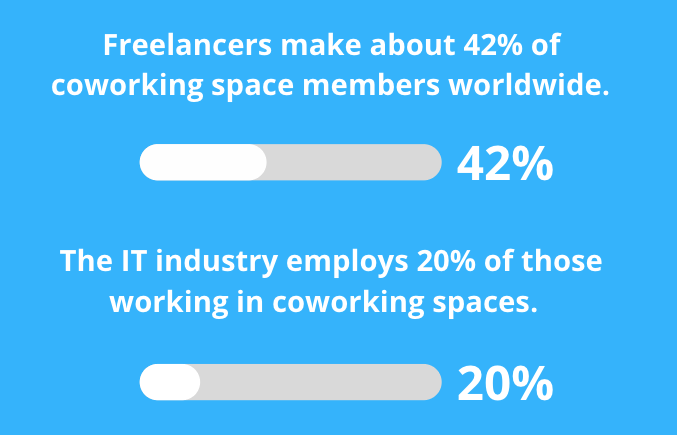 Coworking typically has 40% - 45% of women as members, while 50% - 55% of coworking spaces are occupied by men. 
Source: Propques 
The average age of those who use coworking spaces is 30 - 39. The average age for men is 35, and 30 for women. 
Source: Propques 
62% of millennials use coworking spaces. 
Source: Shortlister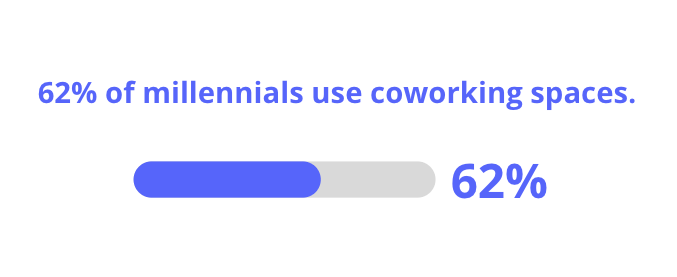 Coworking statistics conclusion 
All employees these days are very concerned about their physical and mental wellness. According to above mentioned coworking stats, these spaces have a lot to offer when it comes to a productive and happier alternative to working with people.
As organizations strive to resume in-person work, coworking is merely waiting to be accepted as the future of work. Teams may adapt to a new way of working that focuses on a healthy workforce through virtual offices, coworking access cards, and hybrid workplaces. 
Are you looking for an office space? Then Flexas.com is the right place for you. Would you rather search by yourself? Use the search function to select a specific area. Or leave a search request with our office specialists. 
Willem-Jan
van Heeswijk
Office Space Broker